During the COVID-19 pandemic, many schools and families are looking for resources to use.
Online Stories
---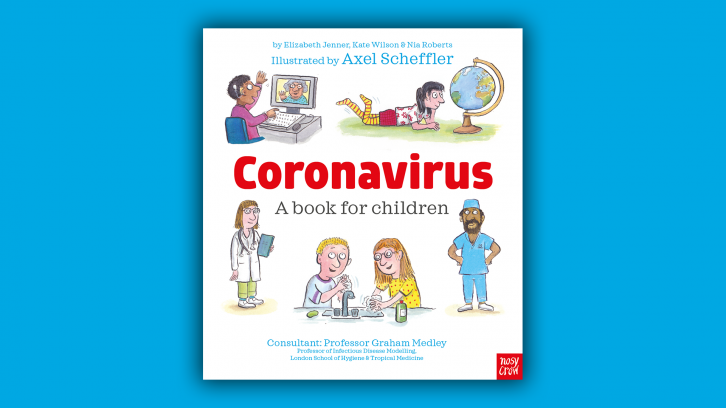 Nosy Crow have released a free digital information book to help explain the current crisis to small children and the measures taken to control it. Written by Nosy Crow staff, the book has had expert input: Professor Graham Medley, a Professor of Infectious Disease Modelling acted as a consultant, and the company also had advice from two head teachers and a child psychologist. Axel Scheffler of Gruffalo fame has illustrated the digital book for primary school age children, free for anyone to read on screen or print out, about the coronavirus and the measures taken to control it. Link to page.
---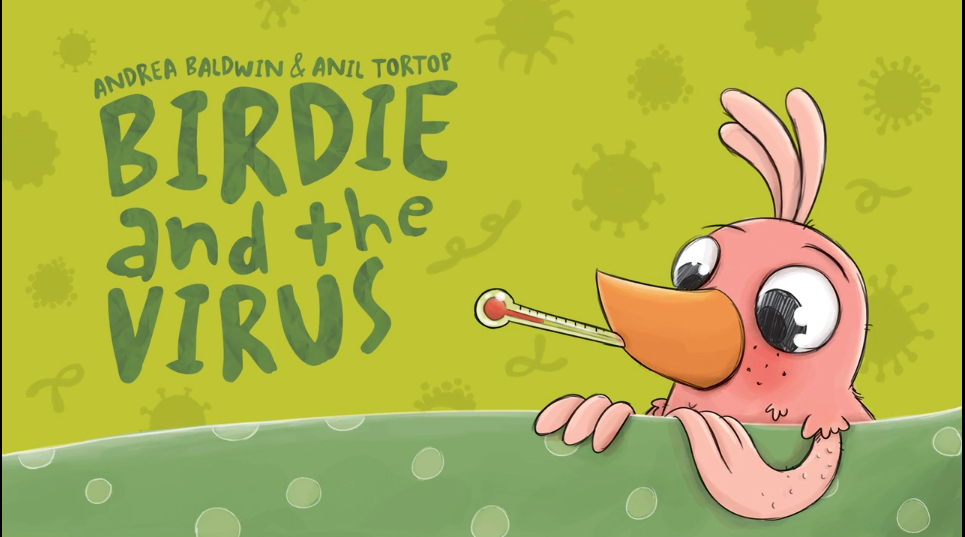 Birdie and the Virus is an animated story written by Andrea Baldwin, illustrated by Anil Tortop and produced by Children's Health Queensland. On Vimeo it runs 2:30 mins. Birdie is cosy and safe in her nest until one day Mr Frog catches a virus and has to stay at home in bed. Birdie can't play with her friends as they become sick. Explains to young children what happens when the virus spreads, how people are tested, and wearing masks. Link to Bridie and the Virus.
---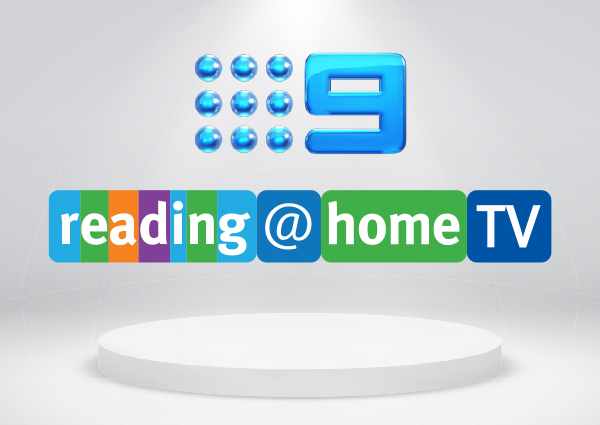 Reading@home Channel 9 TV episodes recorded in 2020. Information and links to recordings are on Education Queensland website. Featuring local authors and illustrators including Yvonne Mes, Giuseppe Poli, Dimity Powell and Michelle Worthington. reading@home TV YouTube
---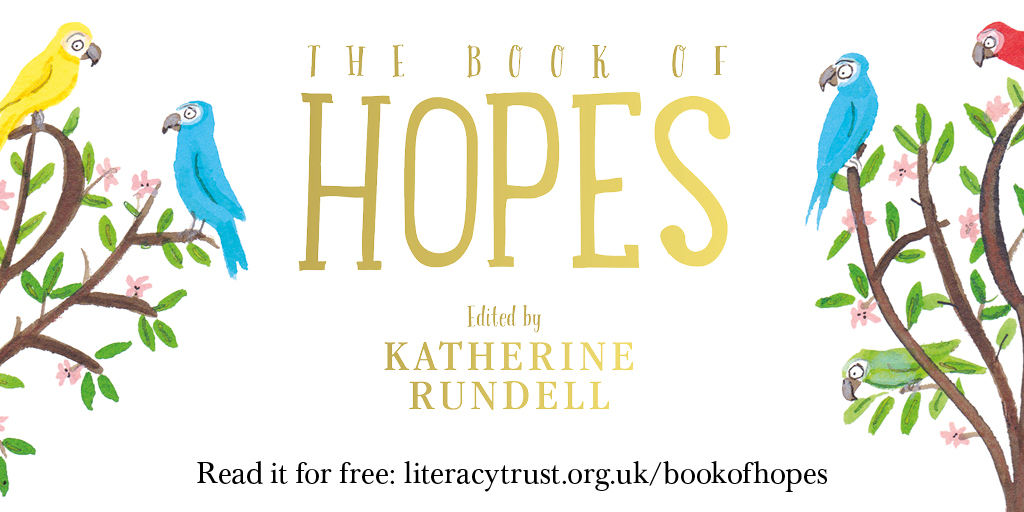 The Literacy Trust in the UK is sharing The Book of Hopes: Words and Pictures to Comfort, Inspire and Entertain Children in Lockdown from Monday 27 April, 2020.Edited by Katherine Rundell, with contributions from more than 100 children's writers and illustrators.
Completely free for all children and families, the extraordinary collection of short stories, poems, essays and pictures has contributions from more than 110 children's writers and illustrators, including Lauren Child, Anthony Horowitz, Greg James and Chris Smith, Michael Morpurgo, Liz Pichon, Axel Scheffler, Francesca Simon, Jacqueline Wilson – and Katherine herself.
---
New York City School Library System has compiled a collection of free eBooks for children about the Coronavirus / Covid-19
---
Harry Potter at Home – in response to the COVID-19 Emergency
J.K. Rowling and her Wizarding World partners have announced three new initiatives under the banner Harry Potter At Home, to help children, parents, carers and teachers confined at home during the Covid-19 outbreak.
The first initiative – a new digital hub packed with information and activities for children, parents and carers – will be hosted on WizardingWorld.com. Then throughout the month of April, partnerships with Audible and OverDrive will allow families to access free audiobooks and eBooks of Harry Potter and the Philosopher's Stone. Meanwhile, the print publishers of Harry Potter, Bloomsbury and Scholastic are also supporting the effort. Full details of all the Harry Potter At Home initiatives.
For information on Bloomsbury's Harry Potter resources.
For information on Scholastic's Harry Potter resources.
---

Children's Books Daily
Blog post on School Libraries Adapt During Covid – 19 includes Game boards/worksheets available for download below. There are enough activities to keep you going for all of Term Two and beyond and all activities are aligned with the Australian Curriculum: English and Australian Curriculum: Digital Technologies.
---
Book Creators
Schools frequently invite authors and illustrators to talk to students. Speakers Ink is working hard with the speakers we represent to develop new and improved virtual sessions to be offered to schools given the current COVID-19 outbreak. Sessions can be presented virtually into classrooms or directly into the homes of the students. As another initiative, our speakers are working to develop pre-recorded personalised video recorded general author talks. These will be uploaded and accessible for viewing (no downloading or copying allowed) for a period of 1-week. That way students can log in from school or at home to access the content. If you would like to enquire about these new initiatives, please contact us at Speakers Ink today. Who are doing virtual visits?
---
Local authors and illustrators from Qld and northern NSW sharing stuff
Jane Smith
Carly Mills, Pioneer Girl book trailer
Some videos of readings of 'Shoot-out at the Rock', the first book in my 'Tommy Bell, Bushranger Boy' series and I am releasing a chapter each day at 11 a.m. on YouTube.
Lisa Walker – a few little videos I've done for 'The Girl with the Gold Bikini' here they are:
This is a thirty second introduction
This is a video of me reading the first chapter (15 minutes)
This is a 5 second book trailer
Remy Lai
What I've been doing is a thing called #sketchwithremy on Twitter (@Remy_Lai) and Instagram(@rrremylai). I post daily prompts for a sketch diary (I'm making it from the POV of the protagonist in my 2nd book) and the kids/parents follow along.
Karen Tyrrell – I read my picture book, Bailey Beats the Blah to empower kids to live STRONG. Features costumes, actions and FUN. FREE kid's activities on Youtube.
Don't forget to wash your paws! Karen
Dimity Powell – Pippa for Kids – Meet Pippa about 3 mins.
Zanni Louise
 Talking about my new books: HUMAN KIND. Megan Daley is a contributor in the books.
Nadia Sunde
Nadia shares one of her favourite stories – 'Mr Wiggle and Mr Waggle'. This wonderful finger play is a great way for children to explore 'high' and 'low' vocal sounds and the concepts of 'up' and 'down'.  4:46 mins on
YouTube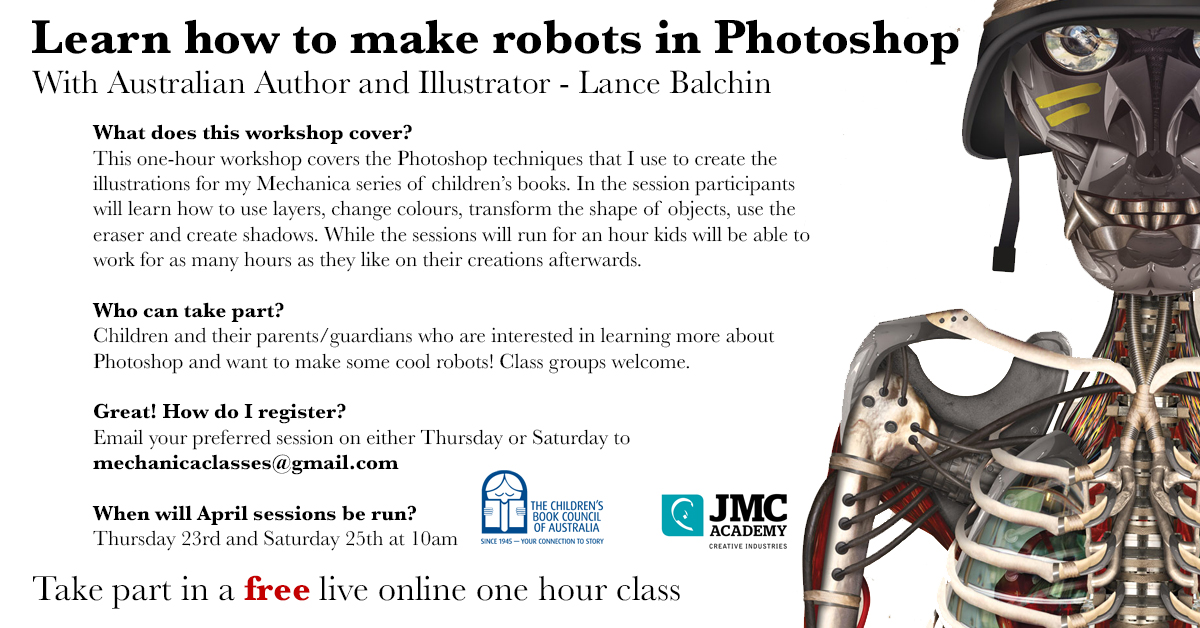 Lance Balchin
Lance is offering free workshops on Photoshop techniques.
What does this workshop cover?
This free one-hour workshop covers the Photoshop techniques that Lance Balchin uses to create the illustrations for his Mechanica series of children's books. In the session participants will learn how to use layers, change colours, transform the shape of objects, use the eraser and create shadows. While the sessions will run for an hour kids will be able to work for as many hours as they like on their creations afterwards.Who can take part?
Children and their parents/guardians who are interested in learning more about Photoshop and want to make some cool robots!Great! How do I register?
Email your preferred session on either Saturday or Sunday to mechanicaclasses@gmail.comWhen will sessions be run?
Saturdays and Sundays at 10am and 12pm
---
Podcasts and audible books
Podcasts and audible books supplied by Karen Hollands.
---
Other Resources
Concord Infiniti have launched this free portal with links to a variety of online resources, not just literature. It has a number of resources and is currently divided into: primary, secondary, teacher, parent, and special audience portals.
Qld Premier's Reading Challenge 2020 dates are now published. Registrations open 27 April.
Book Links has compiled information to help you plan author visits which could be planned as an online library event.
---
From our Publishers
Walker Books Australia Activity Hub – Stay at home with Walker Bear