Follow the links to book your ticket or  use the Trybooking button!
Upcoming Events:
What's coming up in 2021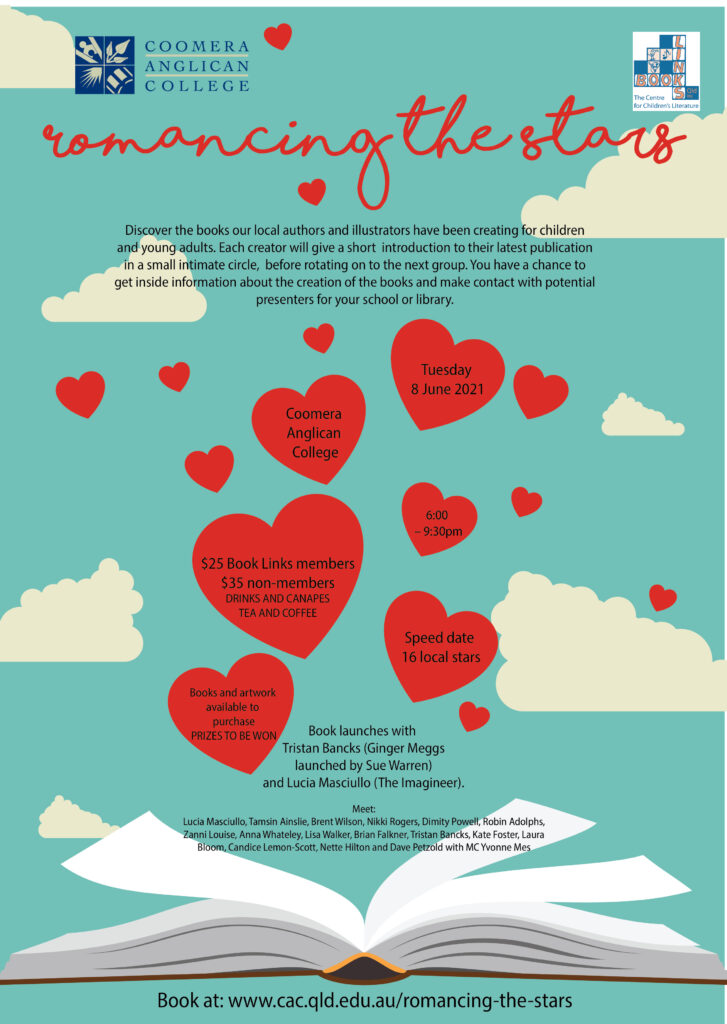 Romancing the Stars – Gold Coast
Date: Tuesday 8 June 2021
Venue: Coomera Anglican College
Time: 6:00 – 9:30pm
Cost: $25 for Book Links members | $35 for non-members
Book here
Discover the books our local authors and illustrators have been creating for children and young adults. Each creator will give a short introduction to their latest publication in a small intimate circle, before rotating on to the next group. You have a chance to get inside information about the creation of the books and make contact with potential presenters for your school or library.
Speed date 16 local stars
Book launches with Tristan Bancks (Ginger Meggs launched by Jenny Stubbs) and Lucia Masciullo (The Imagineer).
Enjoy great food and drinks. View and buy books and illustrations.
Enter raffle and quiz competition.
PD certificates provided after the event.
Book here: Coming soon
Starring: Meet: Lucia Masciullo, Tamsin Ainslie, Brent Wilson, Nikki Rogers, Dimity Powell, Robin Adolphs, Zanni Louise, Anna Whateley, Lisa Walker, Brian Falkner, Tristan Bancks, Kate Foster, Laura Bloom, Candice Lemon-Scott, Nette Hilton and Dave Petzold with MC Yvonne Mes
_____________________________________________________________________________________________________________________________

Book Links Exhibition: Understory – An Adventure into the Art of Illustration
Date: Monday 21 June – Sunday 27 June, 2021
Venue: Richard Randall Art Studio, Mt Coot-tha Botanic Gardens, Brisbane
Time: Open Daily
Free admission.
Come see this amazing Book Links Exhibition 'Understory – An adventure into the art of illustration,' showcasing a trio of local artists who create amazing books for children as well as other art.
Children's book illustrators Caroline Magerl, Megan Forward and Sue Wright will have illustrations and models on display and for sale.   Personalised and signed books available for purchase. Meet the artists on Saturday 26 June and Sunday 27 June.
"As a child, illustrations in picture books suggested to me that there was more to any story than could be seen on the surface. This was an immensely satisfying aspect I looked for in any book.
Illustrations invited exploration, pointed to possibilities.
Now, when I write stories, I begin with imagery.
Sometimes many pieces are created in the process of eliciting a narrative.
These images are my "understory", the point before a narrative forms, where anything seems possible.
The images in this exhibition are dedicated to that starting point, the understory from which my ideas emerge.
It's the part of the picture book process I enjoy the most."
Caroline Magerl
_____________________________________________________________________________________________________________________________

16-17 October, 2021 – Book Links StoryArts Brisbane Conference.
Confirmed speakers: Clair Hume (UQP), Marisa Pintado (Hardie Grant), Davina Bell (Allen & Unwin), Cheryl Bulow (The School Magazine), Justine Barker (Literary agent), Alex Adsett (Literary Agent), Sean Williams, Freya Blackwood, Rhiannon Wilde, Dr Robyn Sheahan Bright (Chair).
Bookings open now. https://booklinks.org.au/whats-on/events/about-bsab/
Are you  or your family a Book Links member yet? Members receive generous discounts to events!