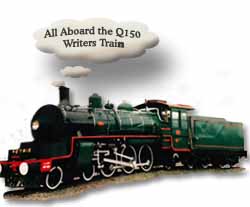 Books Links, the Queensland branch of The Children's Book Council of Australia and the Queensland Writers Centre booked an adult and a children's author on two steam  train journeys which travelled throughout the state to celebrate Queensland's 150th  birthday.
Steam Train 1
On Monday 1st June, Gregory  Rogers and Matt Condon flew from Brisbane to  Townsville where they took part in two events for young people and adults.  The following morning they  boarded the steam train heading for Mt Isa with  overnight stops at Charters Towers, Hughenden, and Cloncurry where similar events took place. They stayed  in Mt Isa  for 2 nights as the drawcard for the Family Fun  Day celebrating Queensland Day on 6th June.
"This was a once in a lifetime  journey… "
Click the link below to read a report of the journey written by author/illustrator, Greg Rogers –
Q150GregRogersReport
Steam Train 2
On a bright sunny morning  on 17th August many enthusiastic and excited folk dressed in their  country gear were gathered on the platform at Roma Street Station awaiting the  arrival of the Q150 Steam Train.
Among  those eager travellers were Nick Earls, Kim Wilkins and her son Luka, Hinemoana  Baker (2009 Arts Queensland Poet in Residence) Kate Eltham (CEO of the  Queensland Writers Centre) and me representing Book Links and the Qld branch of  the CBCA.  They travelled to Toowoomba, Chinchilla, Roma, Charleville before returning to Brisbane.
" … a very special event in my life. "
Click the link below to read a report of the journey written by Beth Green, President of Book Links (Qld) Inc – Q150ReportBeth