Book Links Exhibition: StoryArt
Date: Monday 6 June – Sunday 12 June, 2022
Venue: Richard Randall Art Studio, Mt Coot-tha Botanic Gardens, Brisbane
Time: Open Daily from 10:00am – 4:00pm
Free admission.
Come see this amazing Book Links Exhibition 'StoryArt' showcasing four local artists who create amazing books for children as well as other art.
Children's book illustrators Caroline Magerl, Lucia Masciullo, Nicola Hooper and Sue Wright will have illustrations and models on display and for sale.   Personalised and signed books available for purchase.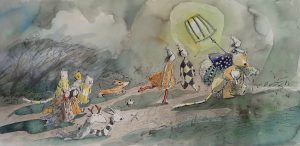 Caroline Magerl is an award-winning and internationally distinguished illustrator, cartoonist and painter, who is now recognised as a unique and arresting presence. Her work spans from dark, enigmatic oil paintings, through incisive cartoons, to lively children's book illustrations.
In 2001 Caroline was awarded the Children's Book Council of Australia Crichton Award for new talent in children's book illustration for her picture book Grandma's Shoes (written by Libby Hathorn) and her latest award being the 2021 CBCA Honour Book for Picture Books as author and illustrator of Nop. She has been a May Gibbs Fellow and received an ASA children's picture book grant to work on her book, Hasel and Rose. Her most recent book is Piano Fingers and the illustrations were recently exhibited in London at the Chris Beetles Gallery. Nowadays she is a full-time author, artist, illustrator and printmaker.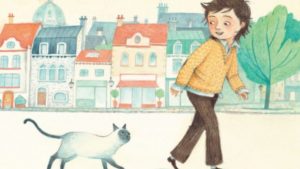 Lucia Masciullo is an award-winning illustrator who loves to create whimsical characters and colouring with traditional techniques, mixing watercolour, pencil and collage. Born and bred in Italy, she moved to Australia in 2007 and since then she has illustrated more than twenty books, among which is Come Down, Cat!, by Sonya Hartnett, CBCA Honour Book and shortlisted for the Prime Minister Award. She currently lives on the Gold Coast.
Her most recent books are The Imagineer, by Christopher Cheng, NLA 2021, Olive, by Edwina Wyatt, Little Hare Books, 2021 and Go Home, Cat!, by Sonya Hartnett, Puffin, 2022.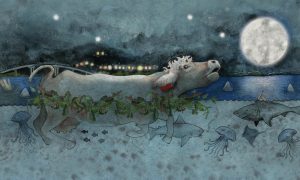 Nicola Hooper  is an artist/educator who loves to immerse herself in her illustrative and lithographic worlds. She is passionate in ensuring our current and historical stories will not be lost to the past, but retold to our youngest of audiences. In 2020 her first picture book illustrations were published by SLQ in  The Cow that Swam out to Sea, written by Pamela Rushby.  She was also awarded The Iain Turnbull Memorial Award for printmaking. Her practice explores zoonoses and the resulting relationships between humans and animals, particularly focusing on our contradictory perceptions of animals in the context of fear of disease. Her studio practise explores concepts surrounding zoonoses particlarly in the narration of anecdotal news stories both visually and verbally through a fairy tale and historical rhyme context. With a background in design and illustration, lithography and drawing became integral to her studio practice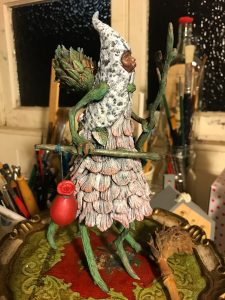 Known more for her work through Tiny Owl Workshop, a Brisbane-based micro press, Sue Wright is also a freelance illustrator with a love of myths and legends, animation, sculpting and woodwork. With StoryArt, Sue brings many of these loves together in the form of small, playful polymer clay sculptures of mythical and fictional creatures.
Rather than creatures haunting the Underworld, Sue has reimagined the half-human half-bird Harpies as sweet infants lovingly swaddled in outlandish bibs and shawls by adoring mothers. The monstrous Minotaur receives similar treatment, reimagined as a joyful toddler offering flowers to those finding their way through the dreaded labyrinth.
Sue's love of Ghibli films is also reflected in her series of small, colourful faces, created as lesser-known spirits contented after a visit to a much favoured bath-house; and there are a few other characters just as likely to be seen scurrying around the riverbank as Rat, Moley and Badger.
In creating these small sculpts, Sue's interpretation of Understory lies in the idea of the stories beneath well-known stories, myths and legends: stories of childhood and life more likely to be told by the characters themselves.
_____________________________________________________________________________________
2021 Book Links Exhibition: Understory – An Adventure into the Art of Illustration
was held Monday 21 June – Sunday 27 June, 2021
at the Richard Randall Art Studio, Mt Coot-tha Botanic Gardens, Brisbane
Children's book illustrators Caroline Magerl, Megan Forward and Sue Wright had illustrations and models on display and for sale.
_____________________________________________________________________________________
In October 2019, Book Links presented its first exhibition of children's book illustration at the Richard Randall Art Studio, Mt Coot-tha Botanic Gardens with children's book illustrators Lucia Masciullo, Helene Magisson and Paul O'Sullivan.