Reading the wider world: Books as bridges for young readers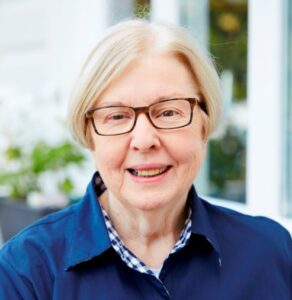 Dr Robin Morrow
The inaugural Book Links Lecture in Children's Literature took place on Thursday the 25th of June, 2015 at the State Library of Queensland in Brisbane.
Dr Robin Morrow was introduced by Dr Robyn Sheahan-Bright who highlighted Dr Morrow's many accomplishments and years of experience in children's literature as well as her wit and wry sense of humour.
Dr Robin Morrow has dedicated her life to children's books—she is the President of the International Board on Books for Young People (IBBY) Australia and Vice President of Aora Children's Literature Research Centre NSW Inc. In 1971 she established the first specialist children's bookshop at Beecroft, NSW. She is widely published on children's literature, has spent 10 years as Children's Literature Reviewer for The Weekend Australian and has been acknowledged for her service to children's literature and to the writing and publishing profession with a Member (AM) in the General Division of the Order of Australia in the 2014 Australia Day Honours.
Dr Morrow started her lecture reflecting on her experiences of the first years of opening and running her children's bookshop in Beecroft 40 years ago. At that time there was only one very small section comprised of Australian children's books between the many imported children's books from London and New York. She also talked about the influence of colonial books on her own childhood.
Since then through the influence of the CBCA (Children's Book Council Australia), teacher-librarians and booksellers this has changed to the many Australian children's books available these days. She warns, however, not to close our minds to international books.
Dr Morrow talked about the importance of the work of Jella Lepman and her publication, A Bridge of Children's Books, and the first exhibition of children's illustrations and children's books from 20 countries in Munich in 1946 (more on this fascinating story here).
She urged us to  make a conscious effort in the present day to change our attitudes to international books and look for the best quality books for children, and most of all to recognise and advocate for the 'right of every child to be a reader'.
She talked about the importance of children to have access to and read books with characters that represent them, in their own language and suitable to the child's age and stage. She acknowledged the role that books have for children in building bridges to other lives in place, time and experience.
She shared many Australian books that represent children's race, gender and disability during her talk.  The loss of Indigenous languages in Australia was discussed. She also mentioned how the representation of girls has come a long way in Australia and how she is frustrated on the divide of the muscly blue and the sparkly pink sections in bookshops that is happening now. She highlighted the 2015 The IBBY Collection of Books for Young People with Disabilities. She feels Australian publishers have excelled in books on refugee experiences.

She said 'Slowly and erratically our books are embracing other lands' … 'books can break down barriers' and in essence 'help us know each other'.
She sees the big issue we are facing now in needing more books translated from other countries into English.
50% of books translated worldwide are translated from English where only 3% of books translated worldwide are translated into English.
'Our job as adults is to broaden children's horizons and offer different books.'
There was a shared feeling between Dr Morrow and the audience that perhaps there is a need for an award for the translation of books into English within our country (if this doesn't already exists) combined with other strategies. There is an opportunity to translate children's books from other languages here in Australia and to then export these to other English speaking countries.
The success of the evening was celebrated afterwards at the Queensland Writer's Centre.
As vice-president of Book Links and a passionate advocate and lover of children's literature I am sure this was the first of many years of spectacular, thought provoking and contemporary lectures on children's literature.
The inaugural Book Links Lecture in Children's Literature, presented by Book Links and Queensland Writers Centre, was designed to raise the profile and value of children's literature and to stimulate discussion and disseminate the results of current research on children's literature.