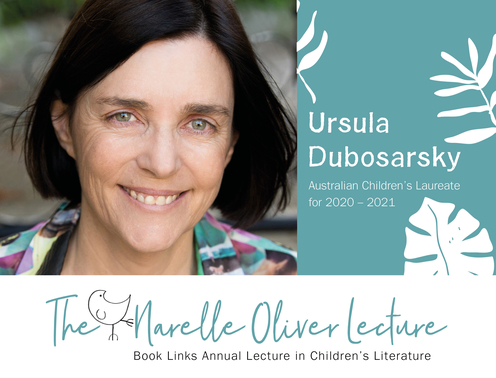 The Narelle Oliver Lecture 2021 (postponed from 2020)
(Book Links Annual Lecture in Children's Literature)
The 2020-2021 Australian Children's Laureate Ursula Dubosarksy will address the audience.
"The Library's Child: Read For Your Life" This will be partly the laureate's own experience as a child reader and writer, and the vital importance of libraries making children readers (and hopefully writers!) for their whole life long.
This lecture is aimed at teachers, teacher-librarians, librarians, parents and any adults with an interest in Children's Literature.  Book here
About the Laureate
Ursula is the author of over 60 books for children, including novels, picture and illustrated books, non-fiction books and a play. Three of her books have been adapted into plays, and many of her titles have won or been shortlisted for numerous national literary awards.
Thirty years after the publication of her first book, she will now embark on a two-year term as the Australian Children's Laureate, travelling the country to raise awareness of the important role reading and storytelling should play in the lives of children.  We are thrilled to have her visit Brisbane.
See what books Ursula has written.
Price: Members of Book Links $25, non-members $30  Food and drink provided.
Time: Wednesday 19 May 2021, 6:00 – 8:15
Please arrive by 6:00 pm to buy books and to find a park.
Books on sale through A Lot of Books.  You can pre-order books here to ensure they have stock.
Lecture to start at 7:00 pm.
NOTE: 19 May is National Simultaneous Storytime Day, part of National Library and Information Week.
This annual lecture is named in memory of Narelle Oliver, to acknowledge her contribution to children's literature and her work as a founding member of Book Links. The Narelle Oliver Lecture seeks to raise the profile of children's literature, to stimulate discussion and disseminate the results of current research on children's literature.
Venue: St Aidan's Anglican Gilrs School, Ruthven Street, Corinda