2016 went off brilliantly. A wonderful night was had by all.

21 Authors and Illustrators spoke to ten small groups of guests and showed their latest books. Mixing, chatting, eating, listening, competitions. Loads of fun for all who love children's literature.This brief video by Peter Allert gives a quick glimpse into the Brisbane event: Romancing the Stars, Brisbane 2016

 Romancing the Stars

Brisbane event update

Isobelle Carmody cannot come, but Robert Hoge, author of Ugly will be taking her place. So who else is coming?  Here are all our Brisbane guests.
Digital illustrator Andy Geppert lives and works in Brisbane, Australia.After 10 years' experience as an advertising art director, he turned his focus towards creating playful images that capture your imagination and speak to your inner child. Andy's first picture book, Little Big Tree, was a joint winner of the Children's Book Council of Australia (CBCA) Crichton Award 2010.
In 2015 his picture book MEEP was published by local publishers Tiny Owl Press. It is a  story about a baby peacock who gives away his feathers to help his friends feel better about themselves. MEEP, however, is more than just a story about generosity and friendship. At its very heart, MEEP is about celebrating our differences and our beautiful imperfections. The very things that make you, you. And me, me. MEEP aims to challenge what 'beauty' really is. http://www.andygeppert.com/
Anil Tortop is an illustrator, designer and sometimes an animator. She has lived in Brisbane since early 2010 when she left Turkey.
She gained a bachelor degree of animation in 2005 and has more than 30 storybooks and some educational books. She has also designed, illustrated and animated some apps, TV games and multimedia education materials as well. She used to work in Top Publishing in Turkey as a full time illustrator. Anil usually illustrates digitally. In 2015 her first book with Scholastic called River Riddle was published and she has a new title coming out with them in April called Supermum.
Brian Falkner was born and raised in Auckland but is currently living on the Gold Coast.  He has worked as a radio journalist, advertising copywriter, computer consultant and as a graphic designer.
He is the author of several novels for children and young adults including, The Flea Thing, The Real Thing, The Super Freak and The Tomorrow Code and Brainjack.
His most recent books have been his Recon Team Angel series about humanity losing a war against alien invaders with a team of teenagers risking everything to overcome the odds and finally a new Rampage at Waterloo, the first of the new Battlesaurus series – an alternative history re-imagines the 1815 Battle of Waterloo as a victory for the French emperor Napoléon Bonaparte, when he unleashes a terrible secret weapon – giant carnivorous survivors from pre-history – on his unsuspecting British and Prussian adversaries.
Giuseppe Poli has been drawing from a very young age and is always excited about imagination and adventures.  In high school, he teamed up with a great friend and crafted their own role-playing game system, created stories and artworks. After Uni, he worked in the Visual Effects Film Industry and in 2003 a dream came true when he got the opportunity to work on Lord of the Rings : The Return of the King. Whilst at Weta Digital, he seized an opportunity to spend his spare time with the incredible sculptors at Weta Workshop learning what he could from Richard Taylor and his amazing team. He also got to meet the world-renowned artist, Alan Lee and see a master artist's workplace and numerous sketch books.
These marvellous experiences propelled him to pursue his own creative endeavours, and now after a long, long adventure of pondering and creating, he has been fortunate enough to have published two children's picture books and soon a third, with many more to come.
Look out for Hootie the Cutie by Michelle Worthington, published in 2014, Fearless with Dad by Cori Brooke, Published in July 2015, and Oliver's Grumbles by Yvonne Mes, published in November 2015.  http://www.giuseppepoli.com
Part 2:
Helene Magisson is a French Australian illustrator, who graduated from the painting restoration school "Art et Avenir", Paris (France). She worked as a painting restorer for several years in Paris, working for both private individuals and antique dealers.
She was also trained in the art of medieval illumination, exhibiting her work in Europe and teaching the history and techniques of medieval miniature in primary and high schools, both in France and in India, where she lived for a few years.
When Helene settled down in Australia with her husband and three children, she decided to start a new career in children's book illustration. Her numerous trips in Europe and Asia, as well as her childhood spent in Africa inspire and enrich her work. She believes that travelling with an open mind enables capturing the beauty of each and every instant, and is a fantastic source of inspiration.
Helene was awarded the first prize in the illustration category at the 2013 CYA conference. Shortly after, she signed a contract with New Frontier Publishing to illustrate three beautiful classical tales: "The Velveteen Rabbit" published in 2015 and two others to come in March and November 2016. http://www.helenemagisson.com/
James Moloney is one of Australia's leading writers for children and young adults. His passion for story telling has seen him produce more than forty books right across the age range from 'seven to seventeen year-olds.' Many have won literary awards, but he gets his greatest satisfaction from regular shortlistings in the Children's Choice awards. His YA novel 'Silvermay' won the Gold Inky Award, the foremost readers choice award for teenagers in Australia.
James grew up in Brisbane, where he was more interested in playing Rugby than anything to do with books, but during teacher training he succumbed to the lure of literature. Two years teaching indigenous children led to his ground-breaking novels Dougy and Gracey which take an unflinching look at Australian racism and identity. A Bridge to Wiseman's Cove, a study of loneliness and a young man's attempts to redeem his family's past is one of this country's quiet best-sellers and widely studied in high schools.
In recent years he has branched out into fantasy and humour. 'I always swore I'd never use any of my family as characters,' he maintains. 'Then I wrote Black Taxi where the feisty heroine is a dead ringer for my daughter. Just as well she thinks it's a hoot.' His fantasy, The Book of Lies, brings him more emails from readers than any other book and prompted two sequels, Master of the Books and The Book from Baden Dark.
James most recent titles are Bridget: A New Australian and The Beauty is in the Walking, a YA novel about a young man with cerebral palsy to sets out to solve a shocking crime in his home town. http://www.jamesmoloney.com.au/
Jennifer Loakes is a Brisbane-based writer and psychologist (provisionally registered). Mate and Me is her first book, published in July 2015 by Windy Hollow Books.
Jennifer was inspired to write Mate and Me after discovering a family of birds living in a garage. This sparked a chain of thoughts about displaced wildlife, displaced people, and what helps or hinders people to adapt to new environments. Mate and Me gently explores the importance of social connections in healing from trauma and learning to live in a new home. http://www.jenniferloakes.com/
Julie Fison grew up in Brisbane exploring her local creeks and the islands around Moreton Bay, harbouring an ambition to work with animals. Instead she became a television news reporter, working  in Australia, Asia and Europe, covering stories of all sizes and significance – shaking hands with heads of state one week and orangutans the next.
A family holiday on the Noosa River, in Queensland, inspired her to write a series of adventure stories for young readers, called Hazard River (using the pen-name J.E. Fison – Ford Street Publishing 2010).  The stories are fast-paced and fun with an environmental twist.
She has also written a new series for tween girls – Choose Your Own Ever After (HGE 2014).  In this series the reader gets to decide how the story goes! The fun kicks off with How to Get to Rio (HGE 2014). Her latest book in the series is The Call of the Wild (HGE 2014). http://juliefison.com
Kerry Brown grew up in Carnarvon, a coastal country town in Western Australia. Her childhood was typical of most children of that time, playing endlessly outside with her friends and spending holidays at the family 'shack' near the Blowholes.
Her imagination worked overtime as she made new discoveries and invented new games behind the sand dunes with her friends. This imagination may have lay dormant for a few years but never strayed far, and was reignited soon after the birth of her two children, who continue to be her biggest inspiration.
Kerry's excitement and passion for children's literature is extended beyond the classroom and into her picture books. She is dedicated to developing early literature skills in children and enjoys helping children tap into their own magical worlds and words! Best known for her picture book Can I cuddle the Moon, her most recent books are All my kisses illustrated by Jedda Robbard and Lest we Forget, illustrated by Isobel Knowles and Benjamin Portas. http://kerrybrown.webs.com
Lachlan Creagh was born in Townsville. He studied industrial design for several years at university but realised this career wasn't for him and moved to Canberra where he completed a 1 year post graduate degree in computer animation. He then worked for three years at a video production company working on TVCs and corporate videos.
Lachlan spent the next 12 years working full time in the computer games industry in Brisbane and doing part-time freelance work in his spare time. He worked as a 3D artist, Lead artist, Lead Animator, senior animator/concept artist and, most recently, senior concept designer during this time. Lachlan was involved in the formative teams of Auran Games, Evolutions Games and Pandemic Studios Australia. Lachlan has created animation, concepts and illustration for games on PC, Xbox, Playstation and next generation consoles. He has produced animation for TVC's, theme parks and events, and created concepts and designs for launches, sculptures, events and displays.
In 2008 he made the decision to pursue a full time career as a freelance illustrator, concept designer and animator. He packed his family up and decided on a sea change to northern NSW near Kingscliff for some beautiful sunsets, fresh air and inspiration. He has since illustrated over ten books for children. Lachlan illustrated the Little Mates series of alphabet books for Scholastic and his most recent title is A Very Wombat Christmas. http://www.lach-land.com/
Michelle Worthington is an award winning internationally published author of empowering picture books for kids of all ages. She is dedicated to becoming an ambassador of children's literacy and aims to help them celebrate their differences and embrace a love of reading from an early age.  Michelle was born in Brisbane and currently works and lives in the Redlands.  Hootie the Cutie was published by Scholastic in 2014 and in November 2015 she had My Brother Tom published by local Dragon Tales Publishing. This book tells about the premature birth of her son Tom. http://www.michelleworthington.com/
Natalie Jane Prior is the author of numerous books for children and young adults. Her work includes the classic picture book The Paw and its sequels (illustrated by Terry Denton), the internationally successful fantasy series Lily Quench, which has well over half a million copies in print, and which was broadcast on BBC Radio in 2006, and The Minivers, a four book series published by Penguin Australia and Scholastic UK. Natalie has collaborated many times with Sydney based illustrator, Cheryl Orsini, most recently on the picture book PomPom (Penguin, 2013) and story book The Fairy Dancers (ABC Books, 2015).
Natalie's books have won the Aurealis Award (for fantasy and science fiction), the Davitt Awards (for crime writing), and have been Honour, shortlisted and Notable Books in the Children's Book Council of Australia Awards. She lives in suburban Brisbane with her husband, teenaged daughter and two long-haired red miniature dachshunds called Theo and Jasmine. When not writing she likes reading, gardening, knitting and sewing. http://nataliejaneprior.com/
Nicholas Lochel grew up in Brisbane, Australia, along with his two brothers and sister, Alison, with whom he is co-writing the ZARKORA series. It was the close bond he shared with his siblings that first inspired the story. He has held a wide variety of jobs over the years, including work as an actor, a bartender and a postie, but his love for stories, and the pursuit of a career as an author, has remained constant throughout. He devotes most of his time to writing, and when he is not seen with a pen and paper or a good book, he can usually be found riding his Triumph motorcycle about town or on some grand adventure.
 Alison Lochel, for as long as she can remember, aspired to be an author. At the age of fourteen, she began writing the first book in the ZARKORA series, THE FYRELIT TRAGEDY, along with her brother, Nicholas. Her passion for writing continues to this day as the four-book series nears its completion. She has a cupboard full of dragons, and has been known to read for long periods of time – so long, in fact, that she is often coated by a thin layer of dust. Achoo! http://www.zarkora.com/
Nick Earls writes long, short and medium-sized fiction, so far including thirteen novels and numerous shorter works. With the publication of the Word Hunters trilogy in 2012/13, he is now officially also a writer for children.
He is the winner of a Children's Book Council of Australia Book of the Year Award. 48 Shades of Brown was adapted into a feature film in Australia (Buena Vista/Prima). Five of his novels have been adapted into stage plays. He has also written for newspapers, including the New York Times, the Australian and the Sydney Morning Herald.
He was born in Northern Ireland, but has spent most of his life in Australia. It is on his experiences as a new arrival to Australia that he has based his most recent book New Boy published by Penguin. "Adjusting to a new country and a new school was never going to be easy for Herschelle. The food is strange, it's so different to South Africa and, worst of all, no one understands the Aussie slang he's learnt on the web." https://nickearls.wordpress.com/
Pamela Rushby was born in Queensland and has worked in advertising; as a pre-school teacher; and as a writer and producer of educational television, audio and multimedia.
Pam has written children's books and television scripts; hundreds of radio and TV commercials; multi award-winning documentaries on Queensland dinosaurs, Australian ecosystems, bilbies, the Crown of Thorns starfish and buried Chinese terracotta warriors; short stories; and freelance journalism. She has won several awards, including a Literature Board of the Australia Council grant to work on archaeological excavations in Egypt and Jordan; a Churchill Fellowship to study educational television in Canada; the Ethel Turner Prize in the NSW Premier's Literary Awards; three Notable Books in the Children's Book Council of Australia awards; and a bag of gold coins at a film festival in Iran.
Her historical novels include When the Hipchicks Went to War (Hachette 2009), The Horses Didn't Come Home (HarperCollins 2012), Flora's War (Ford Street Publishing 2013), The Rat-catcher's Daughter (HarperCollins 2014) and Sing a Rebel Song (Omnibus Books 2015).
http://www.pamelarushby.com
Robert Hoge has worked as a journalist, a speechwriter, a science communicator for the CSIRO and a political advisor to the former Queensland Premier and Deputy Premier. He has had numerous short stories, articles, interviews and other works published in Australia and overseas. He also enjoys photography, and is interested in disability advocacy and social engagement. While he never went far with his professional lawn bowls career, Robert did carry the Olympic torch in 2000.
His memoir, Ugly, is about growing up ugly and disabled. It's also about bad haircuts and reading and awful teen love poems and underarm bowling as a metaphor for… well, you'll just have to read the book.
He lives in Brisbane and has an amazing wife and two wonderful daughters. http://roberthoge.com/
Samantha Wheeler lives in Brisbane with her family and many animals. Her first story took shape during a writing course at the Queensland Writers Centre in 2009 and was accepted into the inaugural Allen and Unwin Children's Manuscript Development Program in 2010. She went on to have a short story published in the One Book Many Brisbanes anthology and to write Smooch & Rose, her first children's novel, inspired by a local strawberry farm and her concern for Queensland's koalas.
Her second book, Spud & Charli is an action-packed adventure about horses, bats and getting carried away by your imagination while her most recent book Mr Cassowary is about, yes, you guessed it, a big bird and a big mystery. Can Flynn solve it?
http://www.samanthawheeler.com.au/
Tina Snerling is an illustrator, children's wear designer and graphic artist. She lives in Brisbane with her husband, two kids and a wild imagination to draw the world with childhood innocence.  You could say she is slightly obsessed with anything to do with kids! Her two cheeky little ones are a great inspiration in everything she draws!
Her first picture book An Aussie Year was written by Tania McCartney and Tina has now illustrated a number of other titles by this author. An English Year and A Scottish Year follow the same format.  Two other picture books look at other issues relating to young children.  Tottie and Dot is about friendship and sharing, while Peas in a Pod is about a set of quintuplets developing individual personalities despite their parents trying to keep them matching. http://taniamccartney.blogspot.com.au/2009/04/women-who-do-what-they-love-tina.html
Tristan Bancks is a children's and teen author with a background in acting and filmmaking. His books include the My Life series, Mac Slater Coolhunter (Australia and US) and Two Wolves, a crime-mystery novel for middle-graders. Two Wolves won Honour Book in the 2015 Children's Book Council of Australia Book of the Year Awards and was shortlisted for the Prime Minister's Literary Awards. It also won the YABBA and KOALA Children's Choice Awards. It was released in the US as On the Run in November 2015 (Farrar Straus Giroux).
Tristan's short films as writer and director have won a number of awards and have screened widely in festivals and on TV. His most recent book is My Life & Other Stuff Massive Mistakes, a third book of weird-funny-gross, semi-autobiographical short stories. Tristan is excited by the future of storytelling and inspiring others to create. http://www.tristanbancks.com/
Yvonne Mes is a children's author, illustrator and devourer of books. Yvonne grew up in Amsterdam but has made her home in Australia. She writes short stories, picture books and junior novels.
Her first picture book, Meet Sidney Nolan, was published by Random House Australia in October 2015. Her stories are published in the School Magazine, on the Kids Book Review website and as part of anthologies. Her second book Oliver's Grumbles, illustrated by Giuseppe Poli, was based on her own son.
Yvonne coordinates Write Links, the Brisbane children's writers and illustrators group and is vice president of Book Links QLD (Inc.) she reviews for Buzz Words Magazine and occasionally for the CBCA QLD newsletter.
---
Romancing the Stars update
Sunshine Coast event
Want to know who to meet on the Sunshine Coast event on Friday 26 February? Look at the Voices on the Coast list of authors and illustrators. http://www.voicesonthecoast.com.au/sunshine-coast-authors—illustrators.html to see information about Chris Collin, Aleesah Darlison, Pat Flynn and Judy Paulson.
Other author information for this event:
Last minute addition is local author and illustrator Gregg Dreise, then we have from Brisbane two special guests Michael Gerard Bauer and Chris Bongers
Then more from the Sunshine Coast region with:
---
Two Romancing the Stars Events in 2016!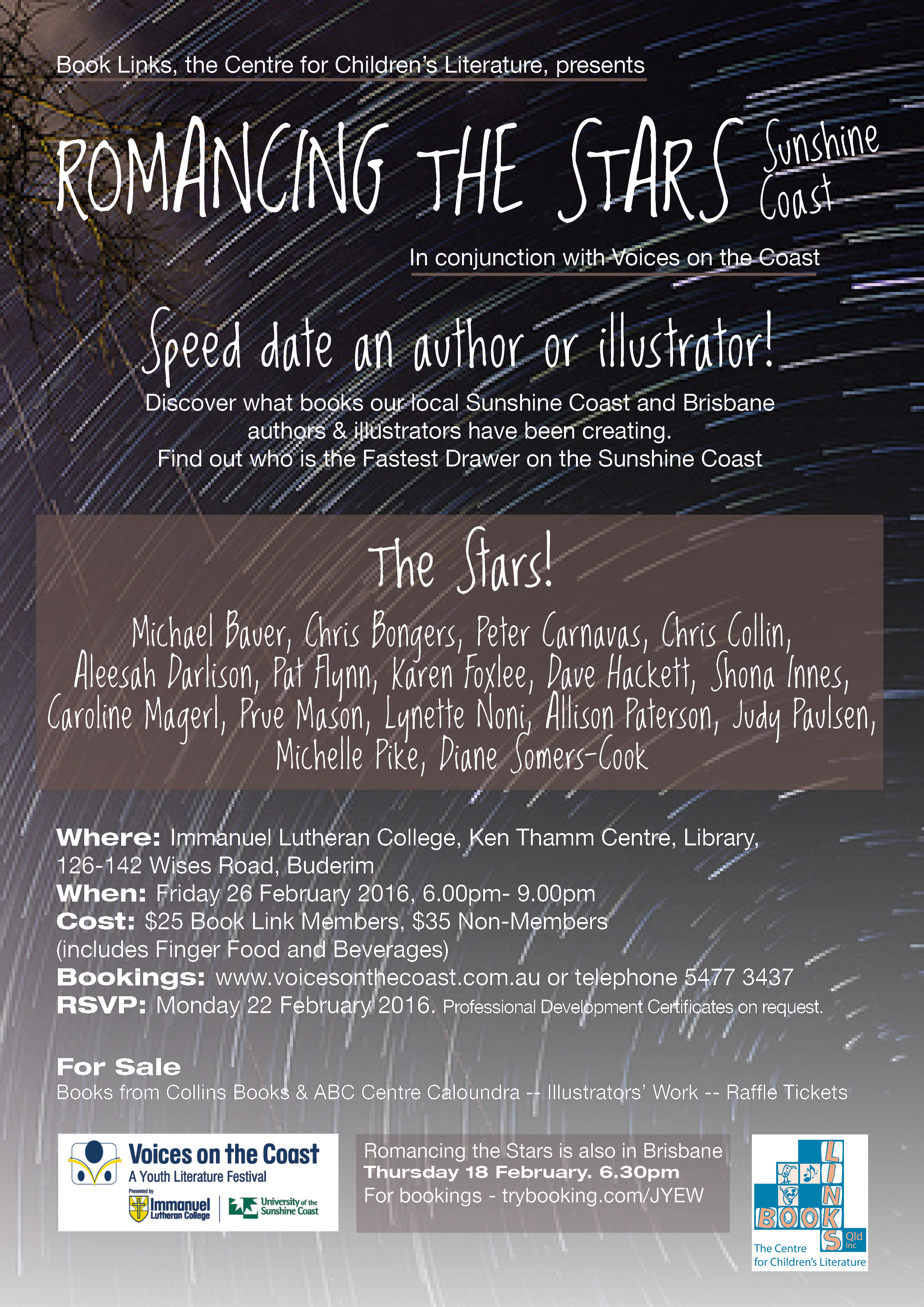 We are uber pleased to announce that we will be having two Romancing the Stars Events in 2016.  The first event will be held in Brisbane on Thursday, 18th February.  And a second event will be held on the Sunshine Coast on Friday, 26th February.
What is Romancing the Stars all about?  For a sneak preview of previous events, and to gauge the level of amazing'ness of these events, check out the videos below:
Presenters
Watch this space for all the details!