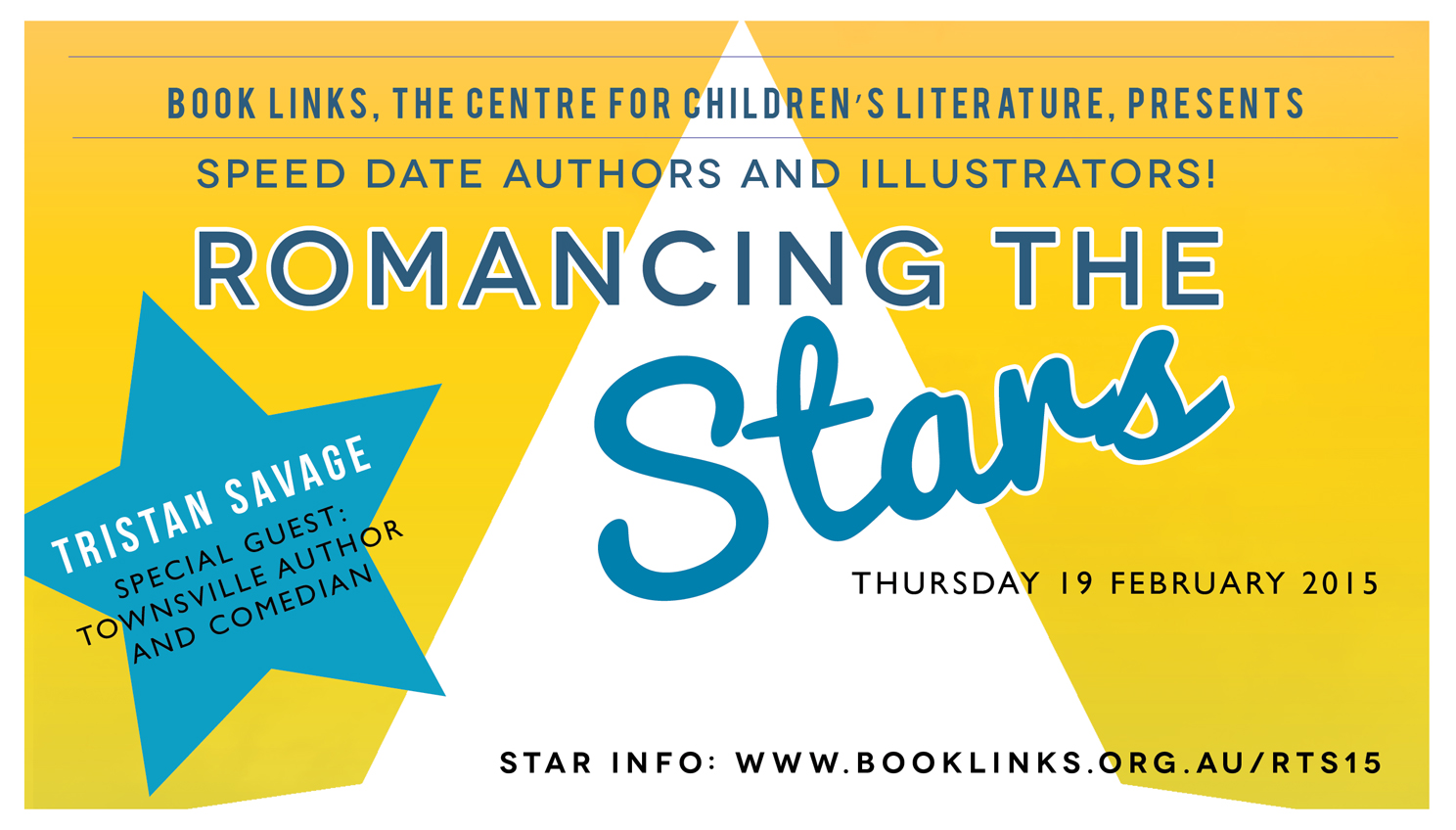 We are pleased to announce the Stars of Romancing the Stars 2015!
Find out who you will be able to romance (in a literary sense), and how to book your tickets below.
The Stars of Romancing the Stars 2015
Bio Information
Here is some information on some of the Stars that you will be able to meet at Romancing the Stars 2015!  Watch this space for more information as it comes to hand.
Angela Sunde
Angela Sunde spent her childhood jumping puddles and climbing trees in her family's vast orchard on the outskirts of Auckland, New Zealand. An award-winning language and literacy teacher with experience in both primary and secondary education, Angela is the author of Snap Magic and Pond Magic (Penguin Aus), and illustrator of The Coral Sea Monster – national winner of the Write-a-Book-in-a-Day Award 2011.
Angela's debut novel, Pond Magic, was part of the popular Aussie Chomps series. A mix of humour, suspense and magic, it portrays the topsy-turvy life of a pre-teen as she struggles to overcome her cultural intolerance towards her live-in exchange student. In 2014 Snap Magic was released – a bewitchingly funny coming-of-age story. "While Snap Magic deals with mature themes such as bullying, trust, friend and parent relationships, developing adolescence, and preoccupation with physical appearance, it does this with gentle and sensitive age-appropriate humour. This book could be the starting point for first mother-daughter discussions." Sandy Fussell, author of the 'Samurai Kids' series.
Awarded a May Gibbs Children's Literature Trust Fellowship in 2013, and an Illustrator Residency at Pinerolo Children's Book Cottage in 2014, Angela is also a writing judge.
Candice Lemon-Scott
Candice Lemon-Scott is a Gold Coast author, editor, freelance writer and workshop facilitator. She enjoys writing stories about turbo space cars, hurtling asteroids and evil villains. Her quirky style, fast-paced narratives and originality appeal to reluctant boy readers in particular. In 2014 she released the first three books in her new series for children, Jake in Space with New Frontier Publishing. The next three science fiction adventure stories will be published in February, March and April 2015.
She's also published two other titles with New Frontier's Little Rockets series, Silver the Silly Sorcerer and Hubert and the Magic Glasses. Other books include: Stinky Ferret & the JJs with Penguin Books; The Day the Energies Saved the World with Pearson Education and Unloched with Odyssey Books.
Candice has a Bachelor of Communication / Diploma of Arts (Professional Writing & Editing) through Monash University and Chisholm Institute. She is a member of the Golden Key International Honour Society and has a background as a Media Manager.
Candice's books have been chosen as best new release titles by Australian Standing Orders (ASO), the Australian Booksellers Association (ABA) and Lamont Books and have been listed on the Premier's Reading Challenge. Her education title was a winning title in the Educational Publishing Australia Awards (EPAA) 2014.
She is passionate about literacy and is a Literacy Champion and a Books in Homes role model. When not writing, or running her book exchange, Candice can be found on a beach somewhere, with a book in hand.
For more, you can visit her website: www.candicelemonscott.com and www.jakeinspace.com.au
Caroline Magerl
Caroline Magerl is an award-winning and internationally distinguished illustrator, cartoonist and painter. Her work spans from dark, enigmatic oil paintings, through incisive cartoons, to lively children's book illustrations. It has been exhibited in a variety of galleries and art fairs and celebrated in numerous publications. Caroline Magerl was born near Frankfurt, Germany. Both her parents have worked within a creative field, exposing young Magerl to the arts from an early age. Two years after her birth, the family migrated to Australia, and settled on the fringes of suburban Sydney. In 1971, they set sail aboard the Rosa M, a yacht that her father had built in their backyard. They cruised the east coast of Australia for seven years; then, to her dismay, her father sold their floating home and relocated the family to a caravan, first on Queensland's Sunshine Coast and then in Brisbane. During this time her primary and secondary education was completed at 10 different schools. Then, at the age of 16, she left home to join another yacht crossing the Tasman Sea and reaching New Zealand. Upon her return to Australia, she found work as a cook while refining her self-taught artistry as a painter on the side. In her twenties, her talents were being recognised as her cartoons and illustrations were published in international yachting magazines. Her drawings were informed by a darkly wry sense of humour, inspired from years of boating experience. She continued to work as a painter, illustrator and cartoonist, eventually gaining international success through her contributions to newspapers and magazines, in Australia, the United States and Europe, including among others, the Melbourne Sun Herald and Reader's Digest.  In 1993, Magerl was accepted by the David Lewis Illustration Agency UK, which allowed her an opening into children's literature. From this she pursued a long held desire to illustrate picture books, achieving an extensive and very impressive career in this field, while continuing her work as a fine artist exhibiting in several galleries and exhibitions worldwide, including the Eva Breuer Art Gallery in Australia and the Debut Contemporary in London. In 2001, she was awarded the Crichton Award, presented by the Children's Book Council of Australia, in recognition of her talent in the field of children's book illustration. She was also the recipient of a grant from the Australian Council for the Arts to write and illustrate a children's book in 2012. She now resides in Queensland with her husband and daughter.
Magerl was the recipient of a grant from the Australian Council for the Arts / Australian Society of Authors in 2012 to write and illustrate her latest a children's book "Hasel and Rose" published by Penguin Australia … to be published by DoubleDay USA in 2016.
David Cox
David Cox was born and raised in Western Queensland. When he left school, at sixteen, he went to work on sheep and cattle stations. David had been drawing since he was a little boy, so when he reached the age of twenty-one, he went to Europe to study at St Martins School of Art in London. It was during his Beginners' Year that he had his first illustration commission, with Puffin Books. It was also in London that his first illustrated story was published by 'Elizabethan Magazine' and the English publishing house, The Bodley Head published his first picture book, so his links with England are strong. Europe, When David returned to Australia, he went to work as an artist in the newspaper industry. Twenty-four years ago,, he set up as a freelance book illustrator and has drawn and written for almost all of the Australian publishing houses. His latest picture book is 'Good Enough for a Sheep Station', published by Allen and Unwin on 31st January, 2015. It is a memoir in picture book form, similar to his two previous books, 'The Road to Goonong' and 'The Fair Dinkum War.'
Dave Hartley
Dave has teamed up with rugby league legend Scott Prince  to co-author and illustrate the children's series, 'Deadly D and Justice Jones'. The writing-duo was awarded the Kuril Dhagun Writing Fellowship in 2013 after entering The State Library of Queensland's 'Black and Write' competition. In 2014, Deadly D and Justice Jones: Making the Team was the winner of Speech Pathology Australia's Book of the Year in the Indigenous category. 2014 also saw the release of their second book, Deadly D and Justice Jones: Rising Star  Reviews from children, parents and educators indicate that the Deadly D series is capturing the hearts and minds of reluctant and not-so-reluctant readers everywhere. Work has already started on the highly-anticipated third book in the series.
Dave is a descendant of the Barunggam people, the traditional peoples of the Dalby and Chinchilla area in south-western Queensland. As a deputy principal in Logan and now the Gold Coast, Dave is passionate about driving learning agendas based on high expectations for all. Dave resides on the Gold Coast with his wife and two daughters. In his spare time, he tries to keep stay fit by boxing and attempting to keep up with his footy star and super fit writing buddy. Dave also is known to dress up as a superhero, much to his family's dismay. One day he hopes to own the Batmobile. 
Dave Lowe
Based in the north of Brisbane, Dave is the author of the Stinky and Jinks series – six books about the adventures of a boy and his genius hamster, published by Hachette in Australia and translated into six languages and shortlisted for national awards in the UK and the Netherlands. In 2015, three new books will be coming out – a new series about a ten year-old superhero and his 73 year-old next-door neighbour, Mrs Onions. The first book, Squirrel Boy vs The Bogeyman, will be released in the UK in February, and in Australia soon after. In his free time, Dave's hobbies include football, music and picking up Lego.
Gregg Dreise
Gregg Dreise is the author and illustrator of Silly Birds, and soon to be released Crazy Kookaburra. A descendant of the Kamilaroi tribe, from south-west Queensland and north-west New South Wales. He was born and raised in St George, Queensland and moved to Noosa during high school. He is the youngest of eight in a family that loved sport, music and poetry (one of those families where everyone sings, and passes guitars around at get-togethers). Gregg's mother (Lyla Dreise-Knox) has always inspired him to write. Her poetry has entertained the family (as well as the odd magazine and newspaper readers) for many decades. Gregg is currently a teacher in the Sunshine Coast, Queensland. He has currently written two more picture books waiting their turn for publishing; and is also working on a chapter book for upper primary; and a horror novel for adults (might have to use a pseudonym for that one. J) His most exciting part of writing, is going to schools with his didgeridoo and guitar, with the aim to educate to an audience filled with smiles. He is very excited to be taking his books to the Bologna Children's Book Fair in Italy this Easter.
www.greggdreise.com Gregg Dreise on Facebook
James Moloney
James Moloney has been writing for Australia's children and young adults for 30 years, with close to fifty books to his credit, among them 'The Book of Lies' and the Silvermay series and YA novel such as 'A Bridge to Wiseman's Cove' and 'Dougy'. His latest book is 'Bridget: A New Australia' which is first in a new series by Omnibus focussing on the migrant experience of so many diverse Australians. It is released in February 2015.
Website is :  www.jamesmoloney.com.au
Karen Foxlee
Karen Foxlee grew up in Mount Isa, Queensland and fell in love with writing and books as a child. Despite working most of her adult life as a registered nurse she never gave up her dream of becoming a writer and she is now an internationally acclaimed award winning author of young adult crossover and children's novels. The Anatomy of Wings won the Commonwealth Writers Prize Best First Book 2008 (South Asia/Pacific), the Dobbie Award 2008, and a Parent's Choice Gold Award in the U.S. The Midnight Dress won the Sisters in Crime Best Young Adult Crime Novel Davitt 2014 and was also selected as an American Library Association Best Fiction for Young Adults title.
Ophelia and the Marvellous Boy is Karen's first novel for younger readers; a beautiful adventure story about a girl who discovers a three hundred and three year old boy locked away in a museum and her efforts to free him and save the world. Ophelia was included in the Wall Street Journal's "Best Children's Books of 2014" as well as Publishers Weekly, School Library Journal and Amazon Best Books for 2014 lists.
https://www.facebook.com/pages/Karen-Foxlee/139995856034130
Kate Hunter
Kate Hunter is the writer of all sorts of things, hundreds of ads (seen the current 'Mates Motel' drink driving campaign?), dozens of online articles (mostly at mamamia.com.au), three novels in the Mosquito Advertising series for young readers, and most recently, a picture book: A Curry For Murray, illustrated by Lucia Masciullo will be released in March.
An Ashgrove resident, Kate lives with her husband, three kids, two cockatiels and their very odd dog. You can read more at www.katehunter.com
Kim Michelle Toft
Kim Michelle Toft –  PDF
Lucia Masciullo
Born and bred in Livorno, Italy, Lucia currently lives on the Gold Coast, where she works as a freelance illustrator specialising in children's books.
Since her move to Australia she has collaborated with Australian and English Publishers and has illustrated fourteen books, among which: Come Down Cat! (CBCA Honour Book and shortlisted in the Prime Minister Award, 2012), Family Forest (shortlisted at the CBCA in 2011) and the successful series Our Australian Girl.
Lucia likes to create whimsical characters and dynamic compositions and she works with traditional
techniques, mixing watercolor, pencil and acrylic.
Her most recent books are The Wild One by Sonya Hartnett and A Curry for Murray by Kate Hunter.
www.luciamasciullo.com
Paula Weston
Paula Weston is the Brisbane-based author of the young adult urban fantasy series, The Rephaim. She grew up in the Flinders Rangers, South Australia, before relocating to Brisbane to pursue her journalism career. Paula worked as a print journalist for 13 years and then spent a decade in government media and communication roles. For the past three years, she's been the co-owner of a communication and graphic design consultancy. Over the last 20 years, Paula has been writing novels (and the occasional play) in her spare time. She signed her first publishing contract in 2011 for Shadows (the first in The Rephaim series), with Text Publishing. The series is now published in Australia, the United Kingdom, United States and Canada, and was recently signed for a Turkish translation. Burn, the fourth and final book in the series, is due out in June 2015. Paula is a huge fan and supporter of Australian fiction. www.paula-weston.com.
Peter Taylor
Peter Taylor's latest rhyming picture book 'Once a Creepy Crocodile', published by The Five Mile Press, has gathered a swag of 'highly recommended' reviews since its release in July 2014. It's been written for 3 to 9 year olds, vibrantly illustrated in watercolours by Nina Rycroft and includes a CD of the text being sung by Rusty Berther to the tune of Waltzing Matilda. While young children enjoy the story and acting it out with hand-puppets, it's a useful stimulus for older ages to experiment with words and music, and also to investigate ecology and Australian fauna and flora. (Peter originally trained as an ecologist and science teacher, was a nature reserve warden and wrote the 'Science' and 'Survival' sections of '101 Things to do Before You Grow Up' for Hinkler Books.)
Peter partly earns his living as a specialist calligrapher and has had four books on the subject published, the earliest by Allen and Unwin and by HarperCollins in 1987. He teaches these skills as well as artist's book construction, illustration and visual literacy, paper-engineering, book design, bookbinding and papermaking, and he delights in encouraging children of all ages (and adults) to love books, read, write and be creative. His works have been exhibited in the State Library, Queensland Museum and Queensland House in London. One of his handmade books was presented to the Queen as part of World Expo 88's gift at its opening.
'A Hands-on  History of Books and Writing over 4000 Years', featuring a wide range of items from Peter's private collection, provides attendees with a once-in-a-lifetime experience of using a Roman writing stylus, handling vellum pages of medieval books, a dictionary page from the age of Guttenberg, a cuneiform Babylonian clay sales docket, Victorian children's books and more.
Peter is the current CBCA Qld Newsletter Editor, a founder of Write Links and the former Queensland Coordinator of SCBWI (the 25,000 international member strong Society of Children's Book Writers and Illustrators) and he also provides talks to children and to adults on writing craft, writing picture books and pathways to publication.
Prue Mason
Prue Mason lived for many years in the Middle East and draws on her own exciting life experiences to write her children's adventure novels that have been particularly successful with boy readers. Some have been set as school texts. She has also written a number of articles and short stories for children's magazines in Australia and internationally. Her first novel, Camel Rider, won the Queensland Premier's Award and was considered a notable book in the CBC awards in Australia and the U.S.A.
Having travelled and lived in many different places around the world Prue likes to write about cultural diversity and cultural understanding. Her latest book, 'Zafir: Through My Eyes' published by Allen and Unwin, to be released in March 2015 is part of a series about children caught up in modern war zones. Zafir's story is set in Syria and at the start of the Arab Spring when citizen journalists were the only ones able to tell the story of what was happening.
Sue Wright
Sue Wright is the Director, Editor and maker of tea at Tiny Owl Workshop, an unusual micropress based in Brisbane. In 2014 Sue released her first children's picture book Will You Be My Sweetheart?. Wonderfully illustrated by David Jumble, the book follows the adventures of a strudel-loving knight who goes looking for a sweetheart in all the wrong places.
In 2015 Tiny Owl Workshop will release The Lane of Unusual Traders, the first collection of tales from the Midlfell world-building project, and MEEP, a picture book by Crichton Award winner, Andy Geppert.
Tristan Savage
Tristan Michael Savage grew up in Townsville North QLD. After leaving high school with average to mediocre grades, he was free to learn about things he wanted to learn about and began teaching himself to write. He attended James Cook University and was awarded a Bachelor of Creative Arts and an Honours degree in Theatre. Since graduating, he has performed stand-up comedy across the country, winning the National Deadly Funny competition, and then touring his show Australian Ghost to the Melbourne International Comedy Festival. He was awarded a Black&Write! Fellowship from the State Library of Queensland for his YA sci-fi adventure novel Rift Breaker, and was the recent recipient of the Kris Hembury Encouragement Award for emerging artists as part of the 2014 Aurealis Awards.