OUR HERO: GREGORY ROGERS

The IBBY Honour List is a biennial selection of outstanding, recently published books, honouring writers, illustrators and translators from IBBY member countries. The titles are selected by the National Sections of IBBY who are invited to nominate books characteristic of their country and suitable to recommend for publication in different languages.

Gregory Rogers was nominated for the 2012 Illustrators Honour List, for his book Hero of Little Street, and his award was celebrated at the recent IBBY conference in London.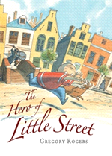 JOIN Book Links (Qld) Inc members at a special celebration and presentation of Greg's award by Robyn Sheahan-Bright, a member of the IBBY Australia Inc committee. This informal event will take place on Thursday 8 November from 5.30 -7.00pm at Queensland Writers Centre (QWC) at the State Library of Queensland, Level 2. Wine and cheese will be served.
Cost: Gold coin donation to Book Links (Qld) Inc for hosting the event on behalf of IBBY Australia Inc.
RSVP: by 2 November 2012 to info@booklinks.org.au