Meet the authors and illustrators of new picture books at this Romancing the Stars Event Online. This is a chance to discover what new books our authors and illustrators have been creating for children. We include some regional creators from Sunshine Coast, Cairns and Toowoomba as well as local Brisbane creators. This event will focus on Picture Books. Each creator will give a short introduction to their latest publication. You have a chance to get inside information about the creation of the books and make contact with potential presenters for your school or library.
Thursday 10 March 2022 6:30 – 7:45 pm Brisbane time
There will be two rounds with four stars in each round, each chatting for five minutes, followed by question time at the end of each round.
Some books will be available from Riverbend Books where you will receive 10% discount.
This is a free event! but we would really appreciate a donation no matter how small. Donations over $2 are tax deductible.
BYO wine and cheese and celebrate our stars!
Presenters:
Caroline Magerl – Piano Fingers (2 March 2022) Sunshine Coast
Katrin Dreiling – Cicada Singsong (1 March 2022), Perfect Pig (July 21)
Sandhya Parappukkaran – Amma's Sari (30 March 2022), The Boy who tried to shrink his name (18 Aug 2021)
Charlotte Barkla – From my head to my toes, I say what goes (Feb 2022)
Trudie Trewin – Summer Blue (1 Feb 2022), Grandma's Prickly Secret (Aug 2021 + PB March 2022) Cairns
Aunty Rhonda Collard-Spratt and Jacki Ferro – Grandfather Emu (Nov 2021)
Rory Mather A – Monster School Rules (1 Jan 2022), Roary the Lion (Oct 2021) Toowoomba
Inda Ahmad Zahri – Night Lights (Sept 2021)
MC for the event will be author and illustrator Yvonne Mes.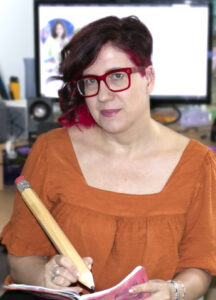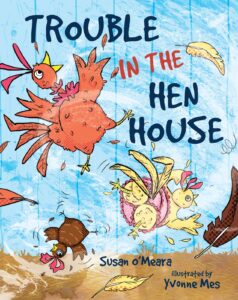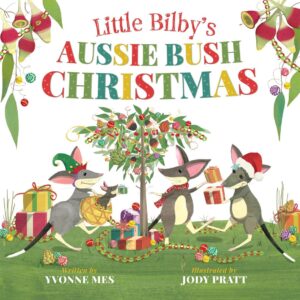 Yvonne Mes is an author and illustrator who writes stories for children and young people with curious minds.
As an early childhood professional with a Bachelor of Children's Services with many years' experience, she loves sharing books, stories and art with children in places big and small, of diverse cultures and abilities and of all ages.
Her books are published in Australia, China and New Zealand.
Yvonne is a frequent speaker at schools, literary festivals and events. She is the coordinator of Write Links, the Brisbane based group for children's authors and illustrators. She buys more books than she can read, comes up with more ideas than she can write or illustrate and has more children than she can manage. But she does try very hard, and best of all, she is NEVER bored.
Find out more about Yvonne Mes.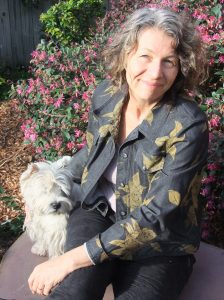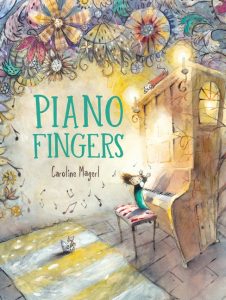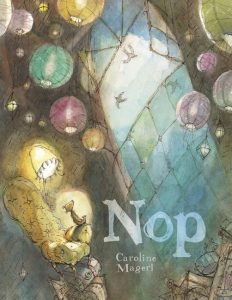 Caroline Magerl was born near Frankfurt in Germany and came to Australia when she was two. She lived on the yacht her family built until she was fourteen. In 2001 Caroline was awarded the Children's Book Council of Australia Crichton Award for new talent in children's book illustration for her picture book Grandma's Shoes (written by Libby Hathorn) and her latest award being the 2021 CBCA Honour Book for Picture Books as author and illustrator of Nop. She has been a May Gibbs Fellow and received an ASA children's picture book grant to work on her book, Hasel and Rose.
Nowadays she is a full-time author, artist, illustrator and printmaker.
Website: http://www.carolinemagerl.com/
facebook: https://www.facebook.com/CarolineMagerlArt/
Publisher:  https://www.walkerbooks.com.au/Authors_and_Illustrators/Caroline-Magerl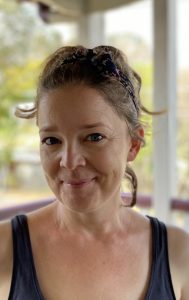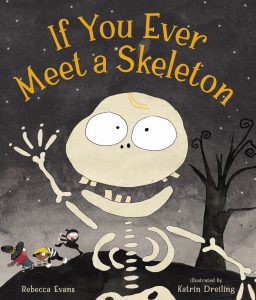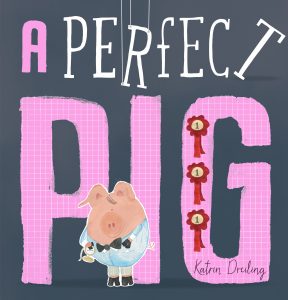 Katrin Dreiling is a German-born language teacher but moved to Australia with her husband and three children and became an illustrator.
Katrin creates quirky illustrations that feature different media. Her first picture book "The World's Worst Pirate" by Michelle Worthington has been awarded Notable Book 2018 by the Children's Book Council of Australia and she also delivered illustrations for a highly successful video animation production on YouTube.
Katrin was awarded the Harper Collins Illustrators Showcase Award 2019 at the biannual SCBWI conference in Sydney. She is represented by Essie White at Storm Literary Agency. In 2021 her first authored and illustrated picture book "A Perfect Pig" published by Scholastic Australia was released and quickly followed by "If You Ever Meet A Skeleton" written by Rebecca Evans and published by Page Street Kids. This year, Katrin has two more picture books coming out with Little Pink Dog Books and Little Steps.
Katrin also teaches art to children twice a week and conducts illustration workshops for both adults and children. In her free time she loves to spend time with her family, writing quirky stories and walking her Golden Retriever 'Loki'.
Website: https://www.katrindreiling.com/
Instagram: https://www.instagram.com/katrinartworks/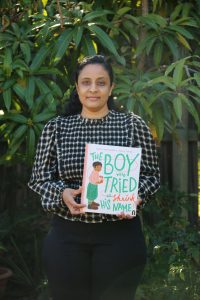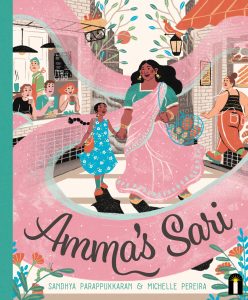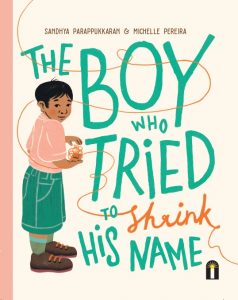 Sandhya Parappukkaran left her job as a Food Technologist so she could put her feet up and read. Then she rediscovered her passion for children's books. Her stories are inspired by her migrant experience. She loves to include scrumptious food and glimpses of nature from her Kerala Indian heritage. Sandhya resides in Brisbane with her husband, three children and a backyard brimming with mango trees, curry leaves, and green chillies.
Website: https://sandhyaparappukkaran.com/
Publisher site: https://www.hardiegrant.com/au/publishing/bookfinder/book/amma_s-saree-by-sandhya-parappukkaran/9781760509910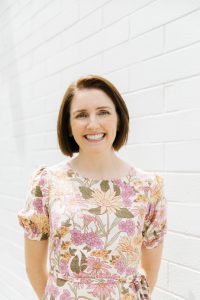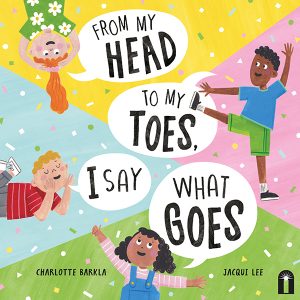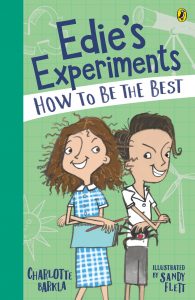 Charlotte Barkla is a children's author, freelance writer and teacher. She is the author of two picture books: From My Head to My Toes, I Say What Goes (2022) and All Bodies are Good Bodies (2020). She's also the author of the early middle-grade series, Edie's Experiments (2020). As well as writing for children, Charlotte writes feature articles for publications including the Australian Educator, CSIRO's Double Helix and Engineers Australia.
You can find Charlotte online at www.charlottebarkla.com, as well as on Instagram (@charlottebarklabooks), Facebook (@charlottebarklaauthor) and Twitter (@CharlotteBarkla)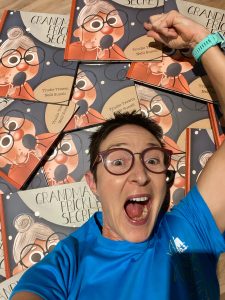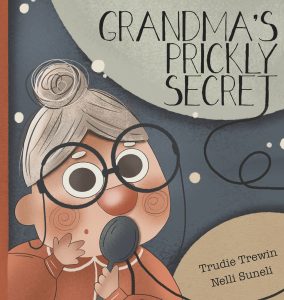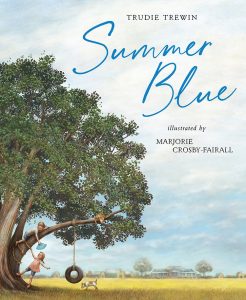 Trudie Trewin is a children's author who considers herself to be living the dream. Nearly. She lives in the beautiful tropics, just north of Cairns and works at a local high school helping kids with special needs learn to read. She writes picture books and junior fiction, of which more than one, but way less than 100 have been published. Her first picture book, I've Lost My Kisses, is an Australian best seller which has been published in many other countries as well. Her most recent titles are Grandma's Prickly Secret (Larrikin House, Aug 2021) and Summer Blue (Scholastic Aus, Feb 2022) Her other passion is cycling, with most of her spare time spent exploring FNQ on either her road bike or her mountain bike. She is hoping to cycle the distance to the moon over her lifetime.
So why is she 'nearly' living the dream?  Because her guitar playing is baaaaad.
You can find Trudie here:
Web: www.trudietrewin.com
FB: www.facebook.com/TrudieTrewin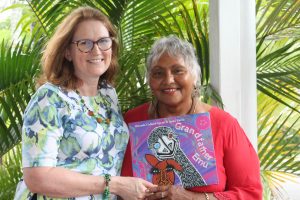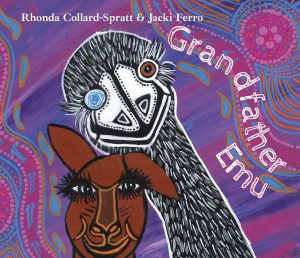 Yamatji-Noongar Elder Aunty Rhonda Collard-Spratt and writer Jacki Ferro bring hope and joy through their Spirit of the Dreaming series (for ages 5-12), based on ancient Aboriginal teachings. A lively storyteller and talented artist, Aunty Rhonda is a survivor of the Stolen Generations. Jacki believes in developing pride in our First Nations people — their culture, languages and lore.
Aunty Rhonda Collard-Spratt is a strong Yamatji and Noongar woman from Carnarvon, Western Australia, who now lives in Ipswich. A visual artist, storyteller, poet, singer-songwriter, dancer, and art teacher, Aunty Rhonda speaks out against injustices against her people and Mother Earth. Aunty Rhonda conducts cultural and art workshops at high schools and has worked in prisons with young women around suicide prevention, helping them reconnect with their Aboriginality. As a representative of the Stolen Generations, Rhonda officiates at National Sorry Day events in Brisbane and Ipswich.
Writer and editor Jacki Ferro of Raw Memoirs specialises in memoir, self-help, spiritual, and business genres. Jacki believes in the power of well researched stories to both educate and entertain, and in preserving memories and stories for future generations. A strong advocate for Reconciliation and multiculturalism, through co-writing the Spirit of the Dreaming series, Jacki aims to clarify Aunty Rhonda's messages and promote unity among all Australians, while remaining respectful of Aunty Rhonda's raw and powerful storytelling voice.
Facebook: Raw Memoirs
Instagram: @spiritofthedreaming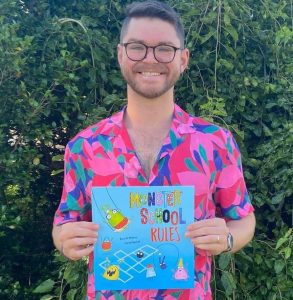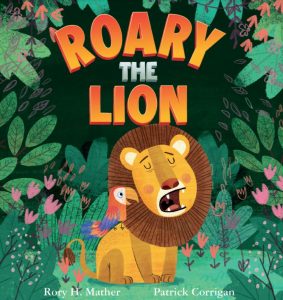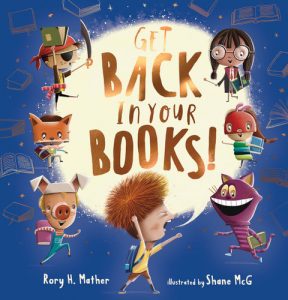 Rory H. Mather is an award-winning author…well he has won awards – mostly for gym stuff – and he is also an author. Either way he is bad at maths. He writes picture books, mostly funny ones but he does like to keep his readers guessing. His current available titles are Monster School Rules (Scholastic 2022), Rory the Lion (Larrikin House 2021),  Get Back in Your Books (Scholastic 2021), Easter Hat-astrophe (Scholastic Australia 2021) and Vlad's in Love (Larrikin House 2021).  He lives in Toowoomba with his favourite person – his wife Georgia – and two dogs who he sometimes regrets not sending to puppy school. Rory is a 31 year old who is completely and utterly addicted to reading and writing picture books…but it's an addiction he is fully leaning into with 6 books in the wild already. He lives in a street that is lined with trees, in a house that is filled with picture books and in his head which is filled with ideas.
Website: https://roryhmather.com/
Facebook: https://www.facebook.com/roryhmatherauthor/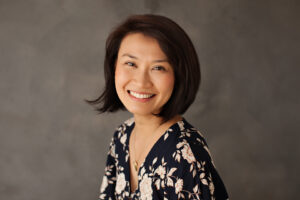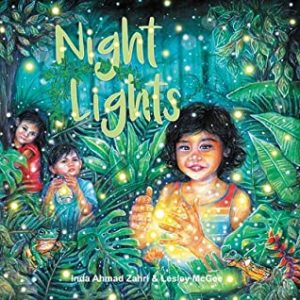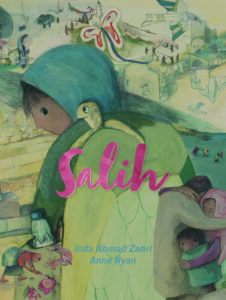 Inda Ahmad Zahri writes and illustrates for both children and adults. Born and raised in Malaysia, she trained as a doctor in the UK and now lives in Brisbane, Australia. She counts books, languages, Malaysian rice dishes and the ocean as some of her favourite things.
Inda's latest picture book, 'Night Lights' (illus. Lesley McGee, Little Pink Dog Books) is a treasure hunt for things that shine brightly in the night. Set in Malaysia, one of Australia's vibrant neighbours, 'Night Lights' is a celebration of nature, wonder and memories.
Inda is also the author of 'Salih' (illus. Anne Ryan, Ford Street Publishing) and a number of upcoming picture book titles in 2022 and 2023, including her first book as author-illustrator. Inda is the recipient of the ASA mentorship award and is currently developing her middle grade adventure fantasy novel.