Book Links – The Centre for Children's Literature
in conjunction with Voices on the Coast presents
Romancing the Stars – Sunshine Coast
Date: Friday 27 October 2023
Venue: Immanuel Lutheran College, Buderim
Time: 6:00 – 9:30pm
Cost: $28 for Book Links members and College staff | $35 for non-members
(Have your membership or discount code ready to  apply at the end of the booking process)
Bookings close Wednesday 25 October at 4pm.
Discover the books our local authors and illustrators have been creating for children and young adults. Each creator will give a short introduction to their latest publication in a small intimate circle, before rotating on to the next group. You have a chance to get inside information about the creation of the books and make contact with potential presenters for your school or library.
Speed date 16 stars
Buy the latest books from the pop-up bookshop set up by Book Links supporting bookstore The Little Book Nook from Palmwoods
Enjoy great food and drinks. View and buy books.
Enter raffle and win books in the quiz competition.
PD certificates provided after the event.
Starring:
Author/Illustrator and MC: Yvonne Mes
Picture book authors/illustrators: Allison McLennan, Dean Jacobs, Dhana Fox, Kerri Day, Rory H. Mather, Sandra Severgnini, Zewlan Moor
Authors Younger Readers, YA, Non-Fiction: Aleesah Darlison, Dave Lowe, Gary Crew,  Kate Foster,  Pamela Rushby, R. S. O'Neal, Sarah Armstrong, Tania Ingram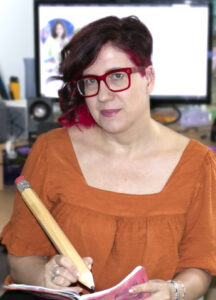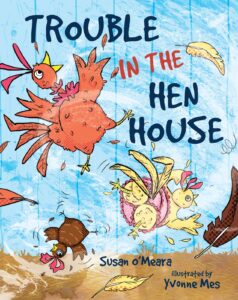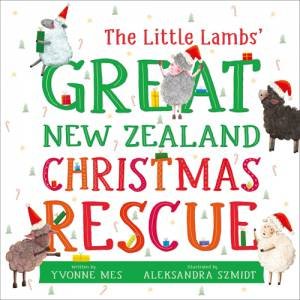 Yvonne Mes is an author and illustrator who writes stories for children and young people with curious minds.
As an early childhood professional with a Bachelor of Children's Services with many years' experience, she loves sharing books, stories and art with children in places big and small, of diverse cultures and abilities and of all ages.
Her books are published in Australia, China and New Zealand.
Yvonne is a frequent speaker at schools, literary festivals and events. She is the coordinator of Write Links, the Brisbane based group for children's authors and illustrators. She buys more books than she can read, comes up with more ideas than she can write or illustrate and has more children than she can manage. But she does try very hard, and best of all, she is NEVER bored.
Her most recent books are The Missing Colour written by Charmaine Clancy and Yarn written by Christine Titheridge.
Find out more about Yvonne Mes.
______________________________________________________________________________________________________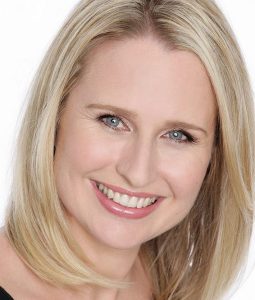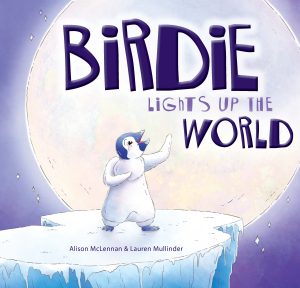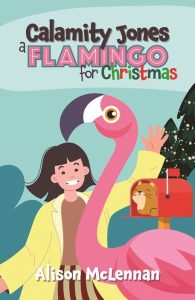 Alison McLennan is an Australian children's author, professional voiceover artist, singer, actor and mother of two. She is a member of SCBWI and Writelinks, and a proud ambassador of Australia Reads.
Alison's debut picture book, Hotel For Bees was published by the State Library of Queensland in 2020. Her follow up, Growing Pains, was released by EK Books in 2021. Great and Small, was released by Storytorch Press in 2022 and Birdie Lights Up The World was released by EK Books, June 2023. Alison's first junior fiction series, Calamity Jones, is coming late 2023 from Five Mile Press.
Alison's graphic novel, A Flood In The Village, was published by Library For All in 2020 as part of their natural disaster education series. Alison's short stories have appeared in The School Magazine and the Spooktacular Stories Anthology. Her story, "Light Up The World" was shortlisted in the 2021 Bee Ethicool international author competition, and her picture book, Great and Small,  was shortlisted in the 2023 Forevability Awards.
You can follow Alison on Facebook at alisonmclennanchildrensauthor  or on Instagram at  ally_mclennan
______________________________________________________________________________________________________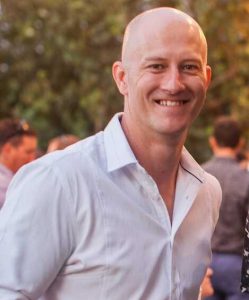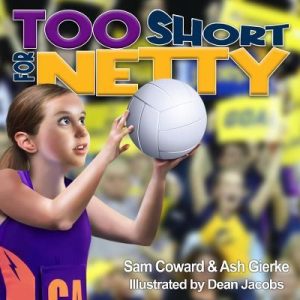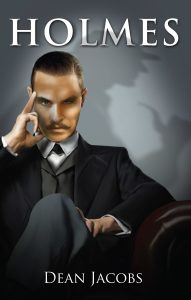 Dr Dean Jacobs is an educator, author, creative and innovative illustrator. Dr Jacobs believes that every door that opens in life leads us down the path we are meant to travel. Some people tend to ignore certain doors and prefer to shelter in the embrace of mediocrity; however, when he came across a door, sketched and painted with wonderous colours, and unlike any other he had seen before, he knew turning the handle would reveal everything for which he had hoped.
That door led him down a path of a two-decade-long acclaimed design career, a research-driven Doctorate of Creative Arts, a number of successful gallery exhibitions, multiple novel and picture-book publishing deals, award winning illustrations and industry recognition for innovation in the creative field.
Dr Jacobs embraces the world of visual literacy, reading images and exploring the importance of wordless narrative. He believes that a picture can, indeed, paint a thousand words, we just need to find the right imagery.
Dean is author of the illustrated novel Holmes, set in present day London. Metropolitan police officer Sherwood Lachlan Holmes, average in every way, has been involved in a bomb blast while on duty. He wakes up in a psychiatric hospital some months later, but he is not the same.  His IQ has spiked to genius levels, his speech is distinctly Victorian and his vocabulary has impressively expanded. A murder mystery suited to YA readers.
He illustrated Too Short for Netty written by Australian Radio Personalities Sam & Ash from Hot 91, published by Bermingham Books. A little girl's adventure-and determination-to find a sport she loves, and achieve her dream of playing in the 2032 Olympic Games in Brisbane.
________________________________________________________________________________________________________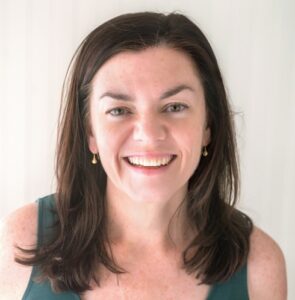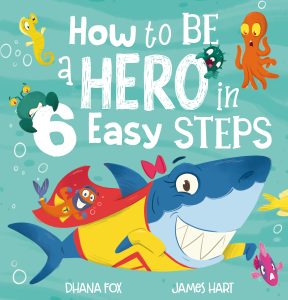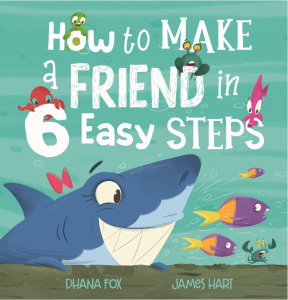 Dhana Fox is an internationally published picture book author from the Sunshine Coast. After many joyous hours spent reading picture books to her daughters, Dhana decided to swap her musical instruments for a pen and the daunting blank page. Titles Ham (2021) and Stud (2021) are published by Larrikin House. How to Make a Friend in 6 Easy Steps and How to Be a Hero in 6 Easy Steps (2021-22) are published by Scholastic. The third in the How to … series, How to Start School in 6 Easy Steps, will be released this December 2023.
Read more about Dhana at www.dhanafox.com
___________________________________________________________________________________________________________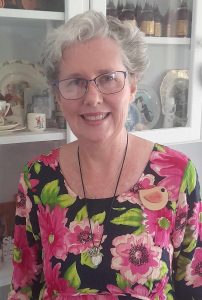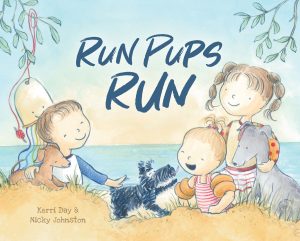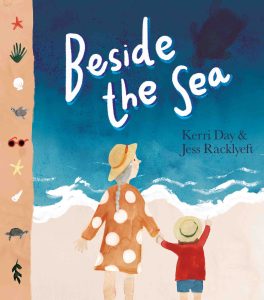 Kerri Day is a Sunshine Coast based writer with a background in teaching. Her debut picture book Beside the Sea illustrated by Jess Racklyeft, was named a CBCA 2023 Notable Early Childhood. It was inspired by news reports of baby turtles confused by light pollution. Kerri hopes the book will raise awareness of this worldwide problem and help children to see environmental issues are manageable when everyone works together to find solutions.
Her second Picture Book with Windy Hollow Books – Run Pups Run, illustrated by Nicky Johnston, was released October 2023. This is a whimsical rhyming text celebrating the simple joys of childhood and the bond between children and their dogs during a runaway family day at the beach.
Kerri enjoys writing stories which encourage young readers to discover the natural world and explore language, sound and creative thinking.  She hopes her stories may play a part in family and school life, helping to plant the seed for a lifelong love of books.  A previously published non-fiction work, Thinking Italian – Being Australian, was based on a series of interviews she conducted with migrants living on the Sunshine Coast. It detailed their emotional response to the cultural and physical landscape of Australia and why they chose to make their home here.
When not writing Kerri enjoys family time, reading, especially with her granddaughter and being in her bush garden which is visited by kangaroos, tawny frog mouths and kookaburras, it also has a great view of the iconic Glass House Mountains.
 ___________________________________________________________________________________________________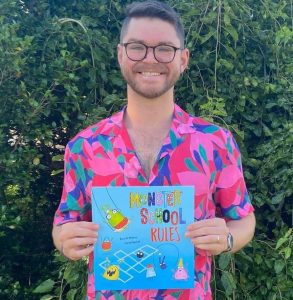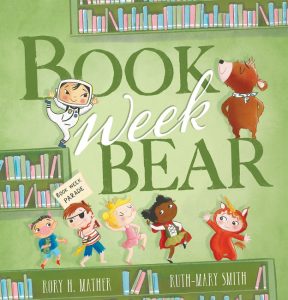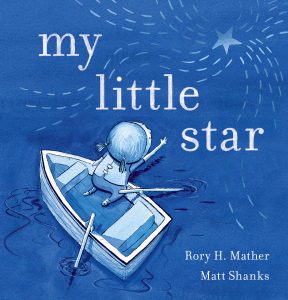 Rory H. Mather is an award-winning author…well he has won awards – mostly for gym stuff – and he is also an author. Either way he is bad at maths. He writes picture books, mostly funny ones but he does like to keep his readers guessing. His current available titles are Book Week Bear (Scholastic 1 July 2023) and My Little Star (Scholastic 1 October 2023).
Previous titles include School Rules (Scholastic 2022), Rory the Lion (Larrikin House 2021),  Get Back in Your Books (Scholastic 2021), Easter Hat-astrophe (Scholastic Australia 2021) and Vlad's in Love (Larrikin House 2021).  He lives in Toowoomba with his favourite person – his wife Georgia – and two dogs who he sometimes regrets not sending to puppy school. Rory is a 31 year old who is completely and utterly addicted to reading and writing picture books…but it's an addiction he is fully leaning into with 6 books in the wild already. He lives in a street that is lined with trees, in a house that is filled with picture books and in his head which is filled with ideas.
Website: https://roryhmather.com/
Facebook: https://www.facebook.com/roryhmatherauthor/
___________________________________________________________________________________________________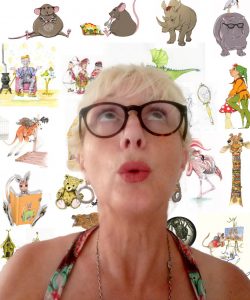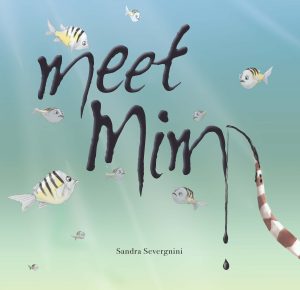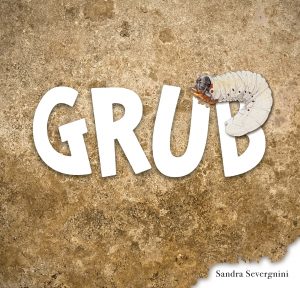 Sandra Severgnini owned an art gallery and retail store before finally deciding it was well and truly time to nurture her lifetime passion and focus on children's picture books. Her fascination with the magical natural world around her inspires her words and brings sensitivity and humor to her illustrations. Her most recent books are:
GRUB (Written & illustrated) – E K Books August 2022
Mim (Written & illustrated) – E K Books August 2023
Tree Warriors (illustrated), written by Raymond Huber, E K Books 2020 – Winner Wilderness Society Environmental Award for Childrens Literature Non Fiction 2021, Forward Indies Book of the Year Award Finalist 2021
Where's Lucky (illustrated), written by Jacqui Halpin, Little Pink Dog Books 2019 – Speech Pathology shortlist book of the year 2019
In The Shadow of an Elephant (illustrated) written by Georgy Donaghey, Little Pink Dog Books 2019 – Speech Pathology shortlist book of the year 2020, Finalist International Book Awards 2019, Shortlisted Society of Women Writers NSW Book Awards 2020
Find out more about Sandra Severgnini
_______________________________________________________________________________________________________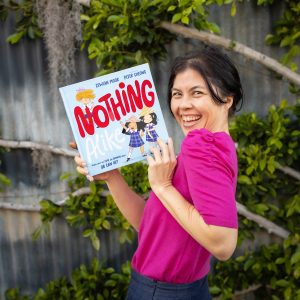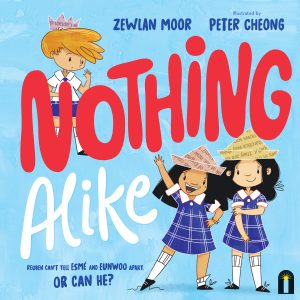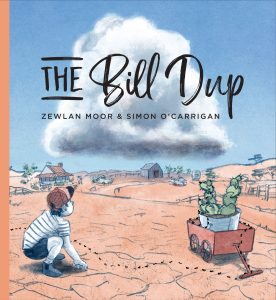 Zewlan Moor is an author, GP and bibliotherapist who writes playful books for today's savvy kids. Nothing Alike (illustrated by Peter Cheong, Bright Light imprint of Hardie Grant, 16 August) and The Bill Dup (illustrated by Simon O'Carrigan, Windy Hollow, 1 September) are both releasing in 2023.
Now living on the land of the Yugambeh people at the Gold Coast with her husband and two children, Zewlan loves to read, practise medicine and combine the two through her private practice, Byron Bibliotherapy. Her books are sometimes multi-layered, with a quirky sense of humour and light touch that belies their serious intent. Other times they're just fun. In her reading and writing, Zewlan is preoccupied with themes of identity, language, power and social justice. Which sounds very dry, but isn't. Especially when wrapped in a picture book/cozy mystery/dark academia/romcom package. She is very grateful to the teachers and mentors who have helped her along the way, and for her boring childhood which made her into a reader!
________________________________________________________________________________________________________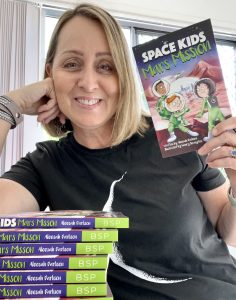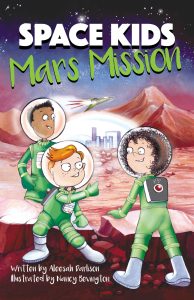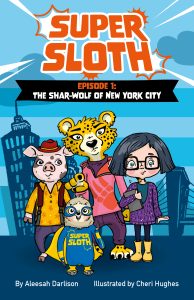 Aleesah Darlison is an internationally published, award-winning Australian author of over 65 books for children. She is known for her books that champion the cause of animals and the environment and for her stories that empower children. Aleesah has won or been shortlisted for many awards including the Book Excellence Awards, the Environment Award for Children's Literature, the Children's Book Council of Australia Awards, the Speech Pathology Book of the Year Awards. In 2021, she was awarded an Australia Day honour from the Sunshine Coast Council (QLD).
Some of Aleesah's series include Super Sloth, League of Llamas, Space Kids, and Endangered Animal Tales
Aleesah has been a judge for the NSW Premier's Literary Awards and has served as a Director of the Writing NSW Kids & YA Festival. When Aleesah isn't writing or dreaming up ideas for new stories, she can usually be found speaking at schools, libraries, and literary festivals promoting literacy and inspiring children to read. More details at: www.aleesahdarlison.com
__________________________________________________________________________________________________________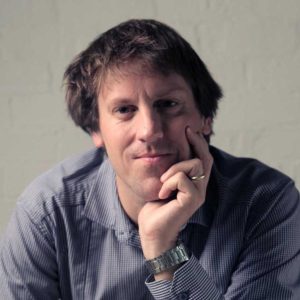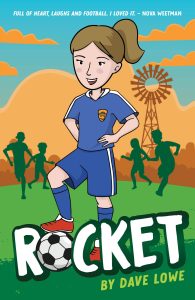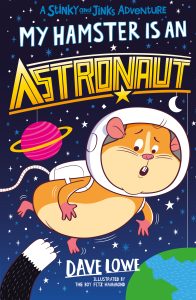 Dave Lowe grew up in a town called Dudley, in England. He has lived in Turkey and Malaysia and now lives (with his wife, two teenage daughters and a mini sausage dog called Ted) in Brisbane, Australia.
He's recently written four plays: an adaptation of Andy Griffiths' classic 'The Day My Bum Went Psycho'; two plays based on his own books 'My Hamster is a Genius' and 'My Hamster is a Pirate'; and an original play called 'Goldie – The Untold Story of Goldilocks'.
He has also co-written 'Café', an episode of the brilliant TV show 'Bluey'.
His most recent book is Rocket, the incredible story of 12 year old Maddie who feels like her dream of playing for the Matildas is over but the truth is, it's only just beginning. In September, Pixies v Fairies, the first in a new junior fiction series (published by Welbeck in the UK and Australia) is being released.
His Stinky and Jinks books (Piccadilly) follow the exciting adventures of a boy and his genius hamster. The first book, My Hamster is a Genius, was highly-commended at the prestigious Sheffield Book Awards in the UK in 2013 (second only to Tom Gates) and the series (six books) has been translated into seven languages, and has sold over 200,000 copies worldwide. The series was reprinted in a new edition in 2018.
_________________________________________________________________________________________________________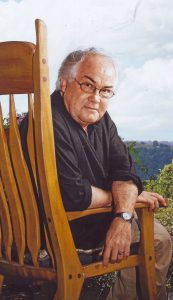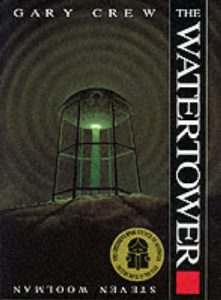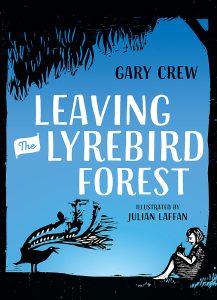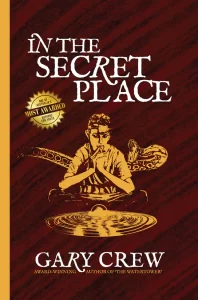 Gary Crew is Emeritus Professor of Creative Writing at the University of the Sunshine Coast. Internationally, he has published over 80 novels and illustrated books for mature readers, delivering workshops on writing and illustration around the world. He is particularly interested in researching the macabre and stories forgotten by History. Among his many awards, Gary has won the Children's Book Council of Australia's Book of the Year four times, twice for his novels, twice for the illustrated book category; the American Children's Book of Distinction, The Aurealis Award for Speculative Fiction, the Wilderness Society's Award for Environmental Writing, and the Royal Geographic Society Whitley Award. He has been twice short listed for the Edgar Allan Poe Mystery Fiction Award in the USA. Gary lives in blissful isolation on Bribie Island.
In 2023 Gary has a new novel coming out called In the Scret Place, published by Hawkeye Books and a new release of the classic The Watertower, illustrated by Steven Woolman, Lothian/Hachette, The Children's Book Council of Australia 1995 Picture Book of the Year.
__________________________________________________________________________________________________________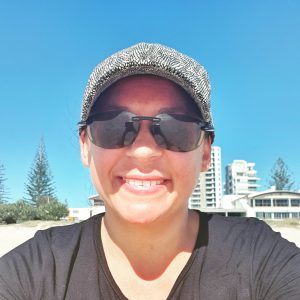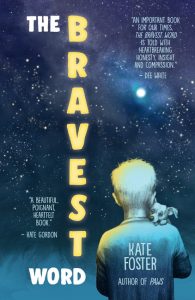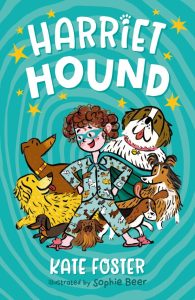 Kate Foster is a children's author writing about friends, family, and dogs. Originally from a small town in the southeast of England, she now lives on the stunning Gold Coast in Australia with her family and second-hand dogs. She is passionate about encouraging and teaching a wider understanding of autism and mental illness via a positive approach and representation in both her books as well as her presentations and talks.
Kate's first books were Paws (Walker Books 2021) and The Bravest Word, (Walker Books 2022). Her most recent books are The Unlikley Heroes Club (Walker Books 5 July 2023) and Harriet Hound (illustratrated by Sophie Beer) (Walker Books May 2023).
More information: http://www.kfosterbooks.com/ and Twitter
_________________________________________________________________________________________________________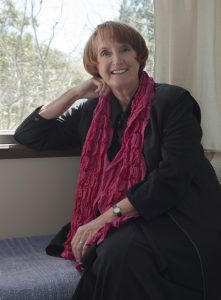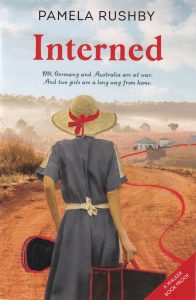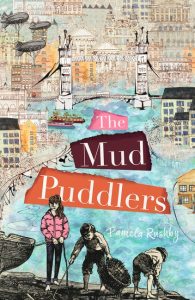 Pamela Rushby is the author of over 200 books for children and young adults, as well as children's TV scripts, documentaries, short stories and freelance journalism. Pam has been an advertising copywriter, pre-school teacher, and producer of educational television, audio and multimedia. She has won many awards, including the NSW Premier's Ethel Turner Prize, seven CBCA Notable Books – and a bag of gold coins at a film festival in Iran! Pam believes the strangest, most riveting, heart-breaking, laugh-out-loud stories aren't fiction. They're real. They come from history. And she loves tripping over unusual incidents from history – and then writing about them.
Her historical novels include When the Hipchicks Went to War (Hachette 2009), The Horses Didn't Come Home (HarperCollins 2012), Flora's War (Ford Street Publishing 2013), The Rat-catcher's Daughter (HarperCollins 2014), Sing a Rebel Song (Omnibus 2015), Lizzie and Margaret Rose (Omnibus 2016), and The Mummy Smugglers of Crumblin Castle (Walker Books 2020) which was shortlisted in the Book Links Award for Children's Historical Fiction in 2021. Her most recent books are Interned (Walker Books April 2022) and The Mud Puddlers coming out 1 April 2023 also with Walker Books.
__________________________________________________________________________________________________________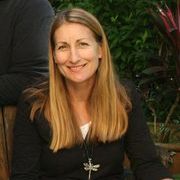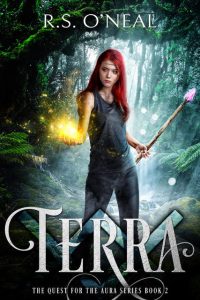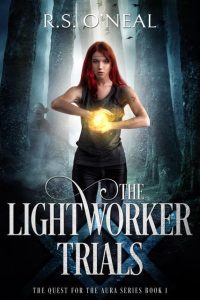 R S O'Neal is the pen name for Leanne (Lan) and her daughter Rose Farmiloe. It is an anagram of their first names, which is just the first puzzle!
Leanne Farmiloe is a self-published author, filmmaker, illustrator and composer who lives on the Sunshine Coast. Collaborating with her daughter Rose, she recently completed a five-book young adult fantasy series 'The Quest for the Aura', which is set in Australia. The series melds magical adventures with the beauty of the Australian environment, flora and fauna. Science, ancient myths, historical elements, riddles, enigmatic poems and codes are all part of the journey that the young protagonist and her team must take in order to solve the overarching mystery of the Aura.
Leanne has also produced several non-fictional environmental films, including one which is permanently screened at the Mary Cairncross Rainforest Discovery Centre. She has also written fictional films including a feature film set in Maleny's pioneering days, short fictional films, and written and illustrated a short animated film. She wrote the music for most of these films and has written three musicals as well as a CD of songs.
Leanne's creative projects have been completed in amongst raising her family of three children and running a business with her husband. She would love to one day devote her time fully to her artistic endeavours.
___________________________________________________________________________________________________________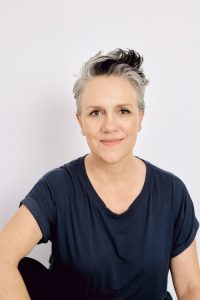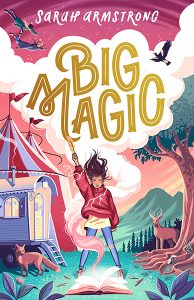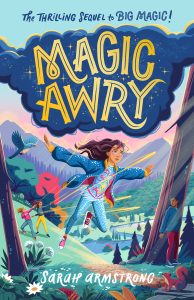 Sarah Armstrong was an award-winning journalist at the ABC before writing three novels for adults, including Salt Rain which was shortlisted for the Miles Franklin Award. Big Magic, her first middle-grade book came out in 2022 and its sequel, Magic Awry, is out later this year. She lives with her partner, Alan, and their daughter, Amelia, in the NSW town of Mullumbimby, which features (if slightly disguised!) in all her books.
____________________________________________________________________________________________________________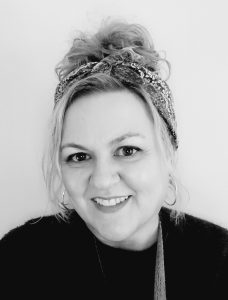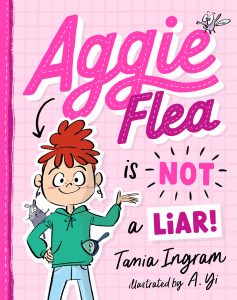 Tania Ingram is an internationally published author of children's picture books, novels and poetry.  She has a Master's degree in Clinical Psychology and prior to becoming an author, worked as a child psychologist.
Her work includes the rollicking Jinny and Cooper series and the heartfelt picture book, Oma's Buttons.
Book 1 of her latest series – Aggie Flea was released in September 2023 with Scholastic.  Tania modelled the character of Aggie Flea on herself as a child. Like Aggie Flea, Tania would often get into trouble because of her big imagination. She even once convinced several of her friends that her neighbour was an alien robot!
In her spare time, Tania likes to read and craft. She's learning to play the ukulele and often sings to her chickens who pretend to be underwhelmed by her talent.
Tania will be joining us as a special guest from Adelaide!