Bruce Pascoe delivers the 2019 Narelle Oliver Lecture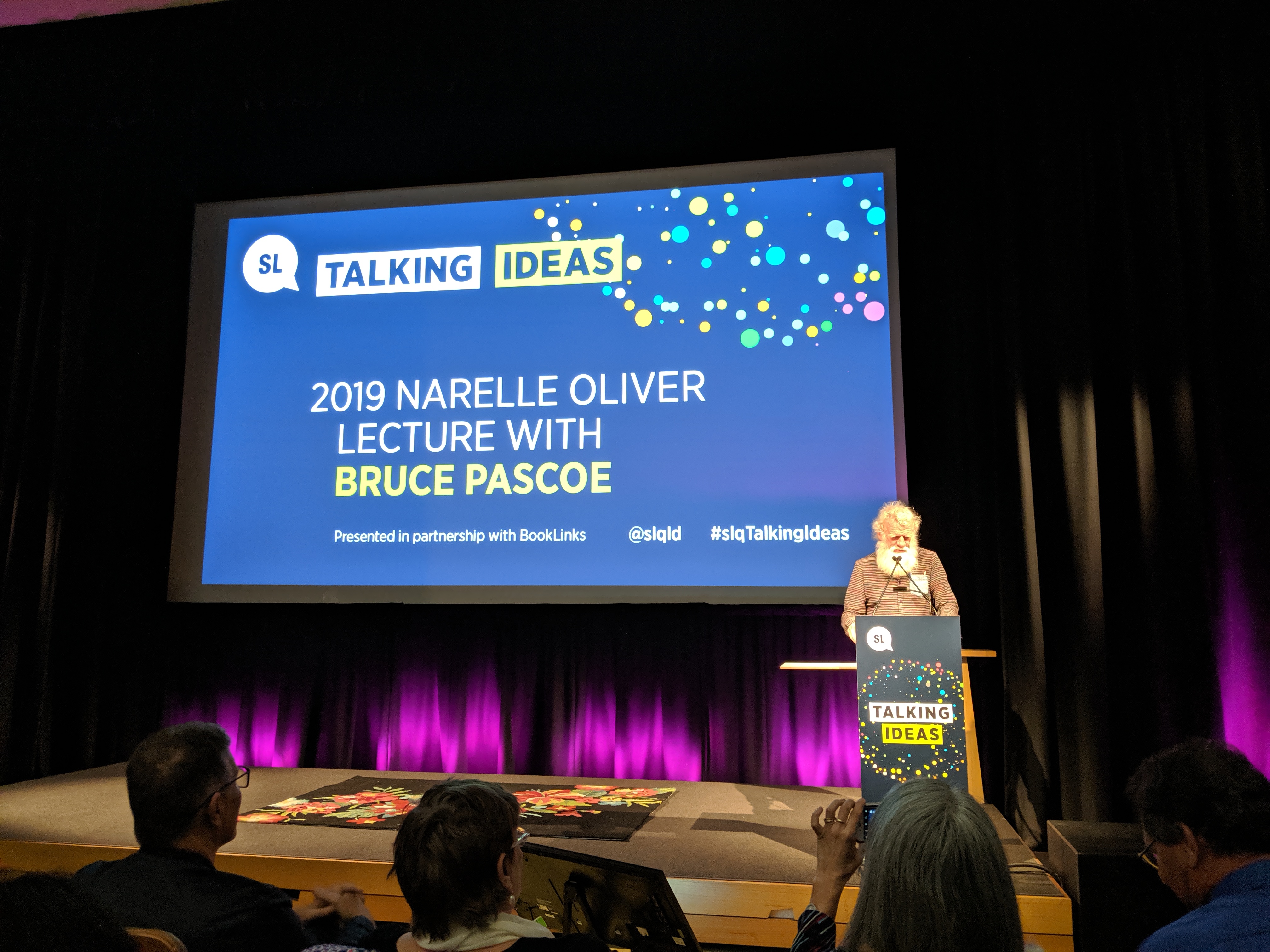 With both auditorium 1 and 2 of the State Library of Queensland filled, this was the most well-attended Lecture of Children's Literature, featuring Australian Aboriginal author, Bruce Pascoe who is an accomplished writer, editor, publisher and anthologist. He has Bunurong and Tasmanian family and is a Yuin man.
This was the 5th Lecture in Children's Literature organized by Book Links. The lecture was renamed in 2017 to the 'Narelle Oliver Lecture of Children's Literature' in memory of the Book Links' co-founder, children's author and illustrator.
This year saw a successful partnership between Book Links and the State Library of Queensland as part of their Talking Ideas series. The lecture was live-streamed from Auditorium 1 into Auditorium 2 and is now available on YouTube.
The lecture coincided with the release of Bruce Pascoe's book for younger readers, Young Dark Emu adapted from his book for adults Dark Emu, published by Magabala Books.
Kelsey Iris who entertained guests before the lecture began, also sang about inland rivers in her language which saw a fitting opening to the lecture. Acknowledgement of country by Des Crump was followed by the announcement by Mia Macrossan of the winner of the Story Links short story writing competition, Genevieve Young.
Vicki McDonald, State Librarian and Chief Executive Officer introduced Bruce Pascoe.
The focal point of Bruce Pascoe's talk was the importance of telling children the truth and the value of kindness and the intellectual gift of doubt.
Bruce Pascoe shared stories from his upbringing and the love of reading as a child and young adult.
Enjoying the experience of a different view of the world that books offer, most of his reading as a child and young adult had been Eurocentric. As a teacher he introduced children to classics such as, 'Of Mice and Men' by John Steinbeck.
His schooling and Eurocentric understanding of the world had shaped his views and it was his Aunty and his Aboriginal family who gently guided him to another truth; the truth that had always been apparent to his Aboriginal peers who had not been exposed to the school system of the time.
After his Aboriginal reeducation, while researching colonists' diaries looking for notations of massacres of Aboriginal peoples, he came across many agricultural notations which culminated in Dark Emu.
Bruce shared how he wept about had to be left out of the book, due to its increasing size, because of the numerous examples and prolific evidence of a sustained agricultural society before the European invasion.
He talked about the current loss of fishing and birds and wants children to grow up to query a society that lets this happen.
However, Bruce sees a shift  in today's farming, based on the practices of the First Nations people and their management of the land, before the land was ruined by the grazing and compacting of the earth by introduced animals and before 'the war for land was lost by smallpox'.
These changing farming practices, Bruce believes, will lead to an agricultural revolution. Bruce calls on Australians to remember where this knowledge came from and for this to be recognised economically.
Bruce highlighted the importance of children re-adopting Aboriginal Law and is proud that kids can now be proud of their culture.
Knowledge is where good decisions come from and Bruce lamented the lack of truth in education and recognition of the evidence of agriculture by the First Nations people that was ignored by many, including professors, who read and had access to these manuscripts before Bruce. The inclusion of Dark Emu and Young Dark Emu will support those in education in teaching the truth and Bruce highlighted the importance of libraries and education for the relief of ignorance. His hope is that through Young Dark Emu, children will learn the history of their country.
There needs to be better conversations between indigenous and non-indigenous people and though he believes, 'these conversations will be bruising, it is the young people that are going to change things.'
Dark Emu is Bruce's monument to doubt and with Young Dark Emu he is teaching children to doubt as well as to be honest and fair.
'Doubt is beautiful; we have to teach our children to be curious and enquiring.'
Written by Yvonne Mes