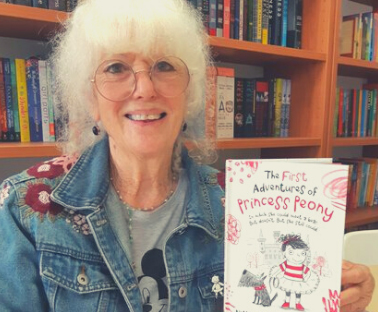 Upcoming events for 2020
We have an exciting program lined up for 2020, so make sure you join early to get discounted tickets.

Our first event is the Write Links Workshop with Nette Hilton. Numbers are limited so book in fast.
'What's the Difference' Workshop with Nette Hilton
The design of a book and the way it is to be presented is often suggested by the publisher. What you consider to be a picture book may be rejected as it is really a junior novel or younger reader. It is not always easy to find the defining line between picture book material and junior novels. Is it word count? Is it language? Is it age level? Or is it the other stuff that just needs to be explored a little. In this workshop I'm hoping to be able to :
Explore language and how it works in picture books.
What is it that frames language in picture books.
How and when to minimize the text.
When is a picture book a Junior Novel.
Ultimately, the workshop is intended to share information that is hands-on and useful. It will provide participants with tools to work on making books that best suit the purpose of the author/illustrator and the publisher and to expand an understanding of picture books and junior novels. It's a bit like refining the aim of the arrow when you launch your book into the moving, unknown target of publishing houses.
Nette Hilton is an established author of children's literature, young adult literature and, in past times, adult novels. Her work is sold internationally and is in translation across many countries. She is best known for 'Proper Little Lady' which was published in 1990 and is still in print today. Her latest books, 'The Princess Peony and her Adventures' which include her encounters with bears, frogs and a troublesome prince, have been well received with the First Adventures being short-listed for Speech Therapists Award this year. Due to judging commitments Princess Peony was withdrawn for CBCA 2020 judging as Nette is one of the judges and has been for the past two years. Her newest work to be published in 2021 is D'Lila LaRue which smacks of naughtiness in the nicest way. She is currently working on developing illustrations for her own picture book and continuing her involvement with judging CBCA BOTYA. More details are available on the website which, sadly, is a little out of date (right now but plans are afoot). There is an article in Magpies last November which, I hope, further explains her experience with writing and all things authorship. Worth a look.
The workshop runs Saturday 7 March from 12:30 – 2:10 pm and will be followed by the Write Links meeting and critiquing.
The workshop is $15 for Book Links members and $25 for non-members. Bookings are essential as these workshops normally sell out.
---

Our next event is our annual Romancing the Stars, beginning with the Brisbane event. Book here.
On Thursday evening 12 March discover what books our local authors and illustrators have been creating for children and young adults. Each creator will give a short introduction to their latest publication in a small intimate circle, before rotating on to the next group. You have a chance to get inside information about the creation of the books and make contact with potential presenters for your school or library.
Speed date 21 local stars and meet others informally. Great food and drinks. View and buy books and illustrations. Enter raffle and quiz competition.
PD certificates provided after the event.
Meet: Aleesah Darlison, Allison Rushby, Jane Smith, Karen Tyrrell, Kathy Hoopmann, Lisa Walker, Remy Lai, Richard Yaxley, Taryn Bashford, Andrew King, Anil Tortop, Chi Mary Kalu, Cori Brooke, Dannika Paterson,  Heidi Cooper-Smith, Jacqui Halpin, Megan Forward, Michelle Worthington, Robert Henderson, Sophie Beer, Yvonne Mes and MC Josie Montano
Find out more about these stars.  See what books they have created and will be talking about.
Join us if you are a teacher, librarian  or lover of children's literature and want to gain an insight into the inspiration behind the latest books.
RSVP by Friday 6 March for catering purposes.
$25 members, $35 non-members Starts 6.00pm.
Venue: Iona College, (Library), 85 North Rd, Lindum QLD 4178
---

And now an event for children.  Our first workshop is for Young Illustrators.  Book here.
Lucia Masciullo  will lead this Illustration Workshop for children.
Recommended for children aged 8 – 13 years.
Sunday 15 March – 1:00 -2:30pm.
$10 members, $15 non-members
Drawing materials supplied.
What you need to bring:  paint shirt/apron, glue stick and scissors
Design a Creature Workshop
Do you have a wild imagination and love for strange creatures? Then this fun workshop is for you! Together with award winning illustrator Lucia Masciullo you are going to design your own creature and finish it with a unique watercolour and collage technique.
Lucia Masciullo is an award winning children's book illustrator born and bred in Livorno, Italy. She moved to Australia in 2007 and she now lives on the Gold Coast.
She has illustrated more than twenty books, among which the CBCA Honour Book and Prime Minister Award shortlisted Come Down, Cat! by Sonya Hartnett and the best selling series Our Australian Girl.
Lucia likes to create whimsical characters and she works with traditional techniques, mixing watercolour, pencil, acrylic and collage.
She loves to share her passion for drawing and creating illustrations and she regularly presents talks and workshops to children and aspiring illustrators. Lucia is the tutor for the Draw Like an Artist program and has workshops coming up in the April school holidays at Southport.
Her last picture book is My Real Friend, by David Hunt, 2019.